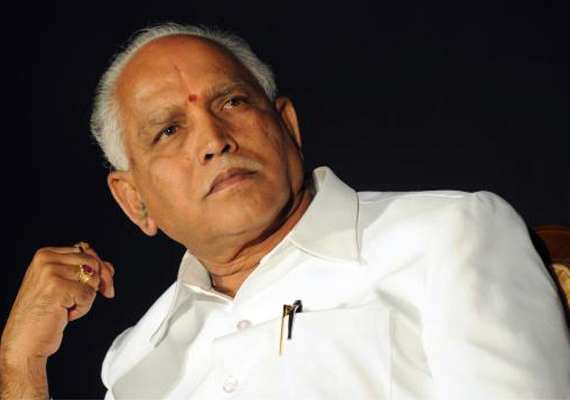 Bangalore, Mar 18: Ruling BJP in Karnataka today plunged into a crisis with former Chief Minister B S Yeddyurappa intensifying his power struggle by claiming support of over half of party MLAs and demanded that the central leadership convene a legislature party meet within 48 hours.

"55 legislators are here today. 15 more will join tomorrow. I am confident that the BJP central leadership will take note of all these developments and take an appropriate decision as soon as possible," said Yeddyurappa, who is making a renewed bid to get the party to reinstate him as Chief Minister.

The BJP has a strength of 120 legislators, including the Speaker, in the 224-member Assembly.

"Wait for 48 hours. It is not a deadline. I am sure the party leadership will take a decision", he said, apparently indicating that the BJP leadership will have to take a call on his demand for reinstating him as Chief Minister before his successor D V Sadananda Gowda presents his maiden budget in the state Assembly on March 21.

He was talking to reporters after holding a meeting with his supporters at his residence here.

At the meeting, Yeddyurappa loyalists decided to submit a memorandum to BJP President Nitin Gadkari seeking a legislature party meeting.

The BJP Karnataka strongman, who is keen on presenting the budget himself, has set the new deadline hoping to regain the lost chair, even as the state unit party president K S Eswarappa firmly ruled out change of guard.

Amid the crisis, Chief Minister Gowda celebrated his 59th birthday on a low key and declared he would present the budget. Gowda, who called on Siddganga Mutt seer Shivakumara Swamy at Tumkur to seek his blessings on his birthday,however, ducked a query on the leadership change demand by Yeddyurappa faction, remarking "it will be decided by central leadership".

Refusing to take note of the show of strength by Yeddyurappa, Gowda said he had seen several political crisis in the past and added "I am sure I will face the current political crisis successfully".

Meanwhile, Minister for Municipal Administration Bhalachandra Jarkiholi expressed unhappiness over the dissidence activities in the party and threatened to quit Assembly membership along with 19 others.

"I am willing to resign my Assembly membership. There are at least 19 more MLAs who are ready to quit. Let the party dissolve the state Assembly after the budget. We can no longer tolerate the troubles created by Yeddyurappa," Jarkiholi said.

Yeddyurappa, however, brushed aside reports of infighting in the party, claiming the BJP was "united".

"There is no division in BJP. We are all united," he told reporters here, when asked about factionalism within BJP. Yeddyurappa has been contending that the BJP central leadership should fulfil its promise to reinstate him as the Chief Minister as it had assured him the chair once the High Court quashes an FIR filed against him in an illegal mining case.

On March 8, the High Court cleared him in the case.

The BJP central leadership had forced Yeddyurappa to quit in July 2011 after he was indicted by the Lokyukta report on illegal mining that had caused a political storm in the state.

After meeting his loyalists today, Yeddyurappa ferried them to a private resort, where they are likely to stay for two days and await the BJP central leadership's response to his demand, sources close to him said.

This is the third deadline given by Yeddyurappa to the BJP central leadership to reinstate him as Chief Minister. Earlier he had set January 14 and Februry 27 as deadlines, which the BJP ignored.

Yeddyurappa expressed confidence that he would be able to lead Karnataka to the number one spot in terms of development in the country if he is made the Chief Minister.

"Even in the next one year, I can make Karnataka a number one state," he said.

On the presence of Rural Development Minister Jagadish Shettar at the meeting, whom Yeddyurappa defeated during elections to choose the BJP legislature party leader in August last year, the former Chief Minister said Shettar had been in the "other camp for different reasons. Today he is also with us."

Shettar, who lost out in the race for chief ministership to Gowda on August three, has been identified with the Yeddyurappa camp as he is reportedly unhappy with Gowda's style of functioning.

The Minister had even played a key role in organising a birthday bash for Yeddyurappa in Hubli on March 11.

Yeddyurappa had planned to parade his supporters before Gadkari on February 24, when the party had organised 'Chintan Manthan', a brain storming session for its MLAs, MPs and Ministers, but was forced to drop the plan after the party president warned him against it.

The 70-year-old Lingayat strongman has stepped up pressure on the party leadership to reinstate him as Chief Minister following the High Court quashing the corruption case against him.

However, in a major setback, the Supreme Court appointed Central Empowered Committee yesterday issued summons to Yeddyurappa seeking his appearance before it in connection with its ongoing probe into illegal mining.

Yeddyurappa's counsel Ashok Harnahalli, a former Advocate General, would be appearing before the CEC, sources close to the leader said.

In another development B P Harish, a staunch Yeddyurappa loyalist, demanded that the legislature party meet be convened in 24 hours to decide the leadership issue.