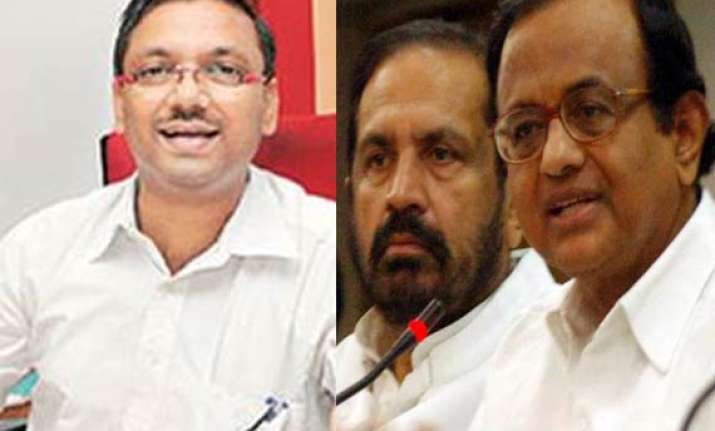 New Delhi, Dec 17: It was P. Chidambaram who was tasked to "supervise and deal with all financial matters" relating to Commonwealth Games by a Group of Ministers, a DNA report says.

Documents accessed from the prime minister's office (PMO) under the RTI Act by advocate and activist Vivek Garg  reveal this fact.

A letter,  written  by the then human resource development minister Arjun Singh has now surfaced to haunt the scam-ridden UPA, and could spell more trouble for the Chidambaram, who was then finance minister.

 Interestingly, the letter addressed to PM Manmohan Singh on January 26, 2005 states that a "consensus" on all issues related to the CWG was "reached in the presence of the Hon'ble Congress President, Smt. Sonia Gandhi."

 It is not understood why the Congress President was present at a meeting of the GoM for an issue that was purely in the domain of the Union cabinet. The PM acknowledged Singh's letter on February 1, 2005.

The late Arjun Singh enclosed a copy of the "decisions of the GoM" that was held in January 2005.

This is the period that the CBI is currently investigating, following the arrest of Organising Committee  chairman Suresh Kalmadi and his colleagues.

But the opposition leaders have been alleging for a long time that the responsibility for the CWG mess should also be pinned on other senior Congress leaders.

The issue came up a few months ago when the Comptroller and Auditor General of India released its report on the CWG games, in which it speaks of a financial loss of nearly Rs  2,342 crore, as well as slip-ups on deadlines and the poor quality of work carried out.

The CWG games have also come in for severe criticism from within the Congress party, with the former sports minister Mani Shankar Aiyer also calling the games a waste of precious public resources.

Many of the controversial financial decisions of the OC, it now seems, according to the GoM, was to be supervised and dealt with by Chidambaram's sub-committee.

However, the CBI is yet to seek any information from Chidambaram  on his or the sub-committee's role in the CWG deals which are currently under investigation.

Congress spokesman Rashid Alvi told DNA: "I have not seen the documents myself. The late Arjun Singh should have been the best person to clarify about what he wrote. All that I can say is that what Arjun Singh said at that time is irrelevant in the present circumstances."

A senior BJP leader said that Chidambaram's role in CWG ought to be investigated because the home minister, who was the finance minister in 2005, was the "final arbitrator on financial matters related to the games."

According to the BJP leader, the issue of Chidambaram's "association" with the Games is likely to be raised by the Opposition when Parliament resumes on Monday.