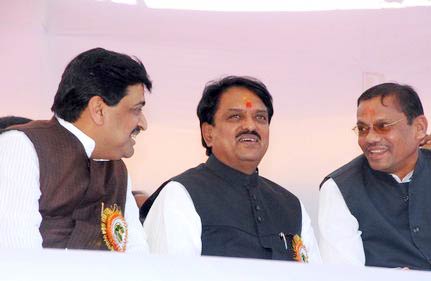 New Delhi, Nov 1: Starting a blame game, Union Minister Vilasrao Deshmukh today said it was Maharashtra Chief Minister Ashok Chavan as the then Revenue Minister who asked the controversial housing society involved in a scam in Mumbai to change the bye-laws to include civilians in it.
Denying any role in the scam, Deshmukh who as Chief Minister had signed the "letter of intent and not the final order", ruled out resignation from the Union Government.
"This application which was made earlier was made to construct houses for servicemen. That was the main proposal, but ultimately what happened in between is that they changed the bye-laws.
"The society was asked to change the bye-laws by the then Revenue Minister Ashok Chavan. That is on record. He called a meeting and called members of the society and asked them to change the bye-laws and 40 per cent of civilians should be allowed to be members of the society. There it created a lot of problems," Deshmukh told a TV news channel.
Asked about the fact that it was under his chief ministership that final permissions were given and whether he accepted responsibility, he said "No, I don't deny that but the problem is what I signed was the letter of intent and not the final order.
"Secondly, the prerogative of clearing everything is with the Revenue department. Whatever the recommendations made by the revenue department, in good faith I have signed the file".
Deshmukh said this was a general practise because these files came to the chief minister as these were lands in Mumbai.
To a question that he had taken the decision of narrowing the width of the road that was abutting the other societies and giving it to Adarsh Co-operative Housing Society, he said "these are subsequent things. The basic problem is why this issue cropped up. Because a lot of civilians were accommodated in the society.
"A lot of flats were given to their near and dear ones. That is the reason the whole thing cropped up. So, if that decision wouldn't have been there to change the bye-laws and allowing 40 per cent civilians, this problem wouldn't have been there."
Asked whether he would resign as Chavan has offered to step down, the Union Minister shot back, "for what? There is no need for that". PTI