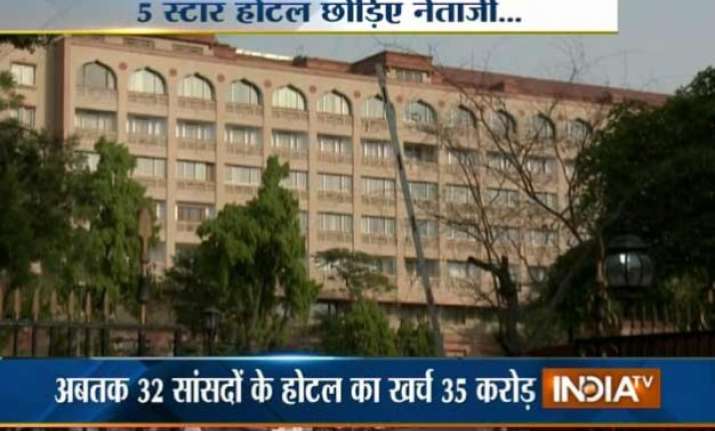 New Delhi: The Centre has served eviction notices to 32 MPs asking them to vacate the five-star hotels they have been staying at.
MPs who have been staying at Ashok Hotel on central government's expense will be shifted to new flats within a week.
The Rajya Sabha MPs have been given a deadline till May 13, while the Lok Sabha MPs till May 8., the last day of budget session.
Centre has also made it clear that If MPs stay beyond this time they will have to pay hotel rent from their own pocket.
On the other hand, MPs claim that the flats, they have been allotted are not ready for stay and they still need some fixtures.
The government is also planning to construct additional accommodation for the MPs.  Meanwhile among 32 MPS , 19 have been allotted their government houses.
The per day expense of the Ashoka Hotel where lawmakers are currently staying is Rs 7000. Till last month the total burden on the exchequer was Rs.35 crore.
Only MPs who have not been allotted the government accommodation are permitted to stay at Hotels during parliament sessions but some MPs or their PAs and relatives continue to stay even after the end of the session.
The MPs including BJP's  Kunwar Pushpendra Singh Chandel  from Hamirpur,  INLD 's Dushyant Chautala from Haryana, LJP's  Chaudhary Mehboob Ali Kaiser from Khagaria Bihar, TDP's Murli Mohan from Rajahmundry, BJP's Prof Chintamani Malviya from Ujjain, BJP's Dr. Hari Babu from Vishakhapatnam, YSR Congress' Renuka Nuta from Kurnool are staying at Ashoka Hotel in the capital.
BJP MP from Pune Anil Shirole, who earlier stayed at Ashoka Hotel and  has now shifted to Maharshtra Sadan, said, "If  our stay at hotel costs  the government  we will deposit some money  in the PM fund."