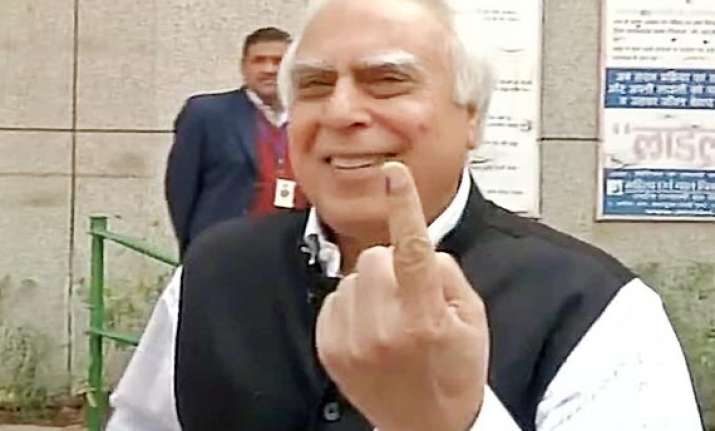 New Delhi: Several candidates who are in fray from the seven Lok Sabha seats in the national capital today cast their votes and exuded confidence about victory in the electoral battle.
Union Minister Kapil Sibal and Delhi BJP chief Harsh Vardhan, who are pitted against each other from the Chandni Chowk seat, were among the first to cast their ballot.  
When reporters asked Sibal whether he faces a different kind of challenge as AAP's Aashutosh has made the contest triangular, he said that every election is a challenge in itself.
On the kind of election campaign it has been this time, Sibal said, "You should not make personal allegations....this elections should be fought on issues."
Taking a dig at BJP's Prime Ministerial candidate Narendra Modi, Sibal said, "But what has been happening is like soaps are being sold on TV. This election is not about issues but of advertisements and commodities and we regret it.  There are those who are spending crores to sell themselves and the public has understood it.
"So it is an advertisement, a commodity being sold. It is not an election of democracy....," he said.  
Delhi BJP chief Harsh Vardhan, who was asked whether a decision has been taken that he will quit Delhi politics if he becomes an MP, said, "There is no question of quitting Delhi politics. Delhi is an integral part whether I am here or there in Parliament.
"Right now the decision is that Harsh Vardhan has to become a parliamentarian to help Narendra Modi become the Prime Minister," he said.