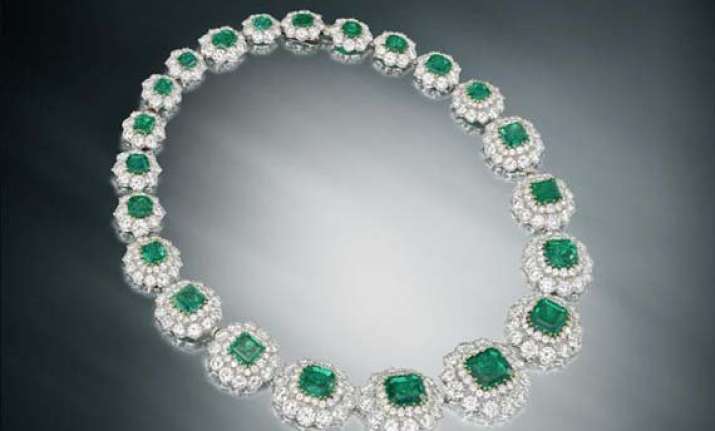 New Delhi: An impressive emerald-set gold ring, made in India in the early 20th century and estimated at Rs 11,993,876 - 1,79,96,400, is to be sold on October 7 in Bonhams Islamic and Indian Art sale.
 
The stunning piece features a large central stone of 8.2 carats, framed by a ring of tiny seed pearls and an outer border of eight individually-set cabochon emeralds.
 
Favoured at the Mughal court from the late 16th Century onwards, emeralds have played an important role in India's decorative history. As emeralds from Colombian mines became readily available, discovered by the Spanish in the first half of the 16th Century, the Mughal emperors began to acquire great quantities of the gem.
Large gems were initially reserved for the emperor alone, but as Mughal power waned, other princes acquired spectacular emeralds of their own, particularly the Sikh ruler Ranjit Singh (1780-1839). Princely states demonstrated their prestige and wealth with magnificent jewels, and suites of emeralds were created for the aristocratic elite, including large turban ornaments, dagger hilts, and other lavish items.
 
The emerald remained very fashionable, and by the early 20th Century, Indian princes were having their gems re-set in contemporary styles by European jewelers.
 
The Colombian emeralds in this ring are most likely gems from an earlier piece, which have been re-set in a carved gold mount to suit 20th Century taste. The octagonal cut of the central emerald is unusual, as emeralds grow as a hexagonal crystal, and it would have been much simpler to fashion the gem as a hexagon rather than an octagon. The emeralds would have been in the possession of a princely treasury, and taken out for use when the occasion demanded.