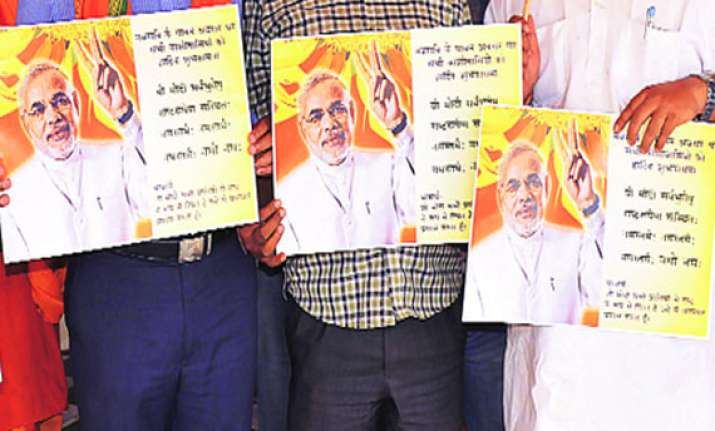 Varanasi: A poster on the lines of Goddess Durga's shloka "Ya Devi Sarvabhuteshu" eulogizing Modi as "Ya Modi Sarvabhuteshu" has raised the hackles of local political parties here.
Samajwadi Party leader Shivpal Singh Yadav said today that the poster has hurt the sentiments of Hindus deeply and his party would expose the true face of BJP, which has no respect for the sanctity of traditions.
The poster has been brought two days before the holy Navratri, a nine-day festival dedicated to the worship of Goddess Durga.
The post carries a picture of Modi showing a victory sign and the shloka "Ya Modi Sarvabhuteshu, Rashtrarupen Sansthitah, Namastasyai Namastasyai Namastasyai Namo Namah"
(meaning Modi resides in every human being in the form of nation, whom I salute again and again)
Meanwhile, BJP sources said office-bearers of the party's literature publication wing, which released the poster, had been summoned by party president of Kashi area Laxman Acharya.
Acharya had asked workers not to circulate the poster, the sources said.
State party president Laxmikant Bajpayee has also issued a warning that "serious action" would be taken if this poster was put up on walls and vehicles,  sources added.