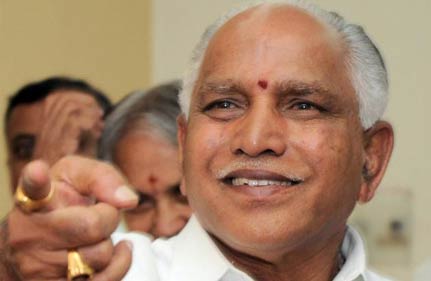 Bangalore/New Delhi, Nov 19: Embattled Karnataka Chief Minister B S Yeddyurappa, who has been summoned by BJP leadership following the controversy on allocation of prime urban land to his family members, is likely to meet party's top brass in Delhi tomorrow along with other senior leaders from the state.
"The Chief Minister is today travelling to Karwar in north Karnataka to attend a day-long government function. He is scheduled to fly to Delhi tomorrow evening," party sources said.
The political embarrassment in Karnataka has come at a time when the BJP is spearheading a campaign against the central government on the issue of corruption.
With the Congress using the issue to launch a counter-attack on BJP, the party's Core Group met at the residence of senior leader L K Advani last night.
Emerging from the meeting, senior leader Arun Jaitley had told reporters that the Chief Minister and other important leaders will be called in a day or two to discuss the entire subject with the central leadership.
Sources, however, did not rule out Yeddyurappa heading for Delhi this evening if there is any new development. "It depends on how things unfold in Parliament and if there is any direction from the central leaders," they added.
The 67-year-old Chief Minster, who yesterday ordered a judicial probe into allotment of land in the last 10 years even as the Opposition intensified its campaign for his ouster, was slated to fly to the Capital last night but later cancelled his visit.
The leaders have maintained that removal of the Chief Minister may not be a viable option given the delicate balance in the state politics.
But if it comes to the crunch, the possibility of an alternative leader from dominant Lingayat community, to which the Chief Minister belongs, cannot be ruled out, party sources said.  PTI