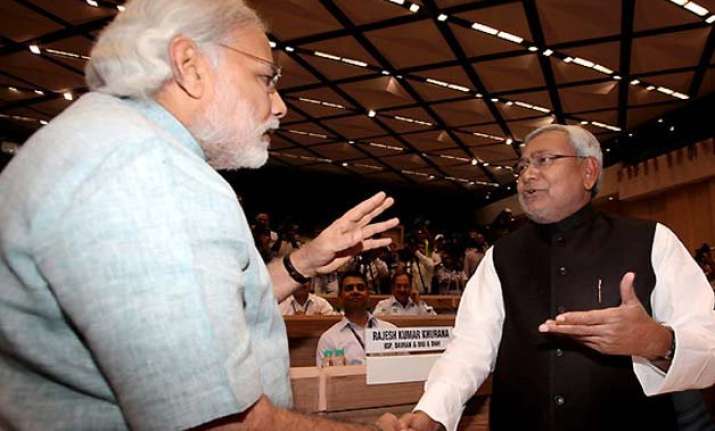 New Delhi: Bihar CM Nitish Kumar, after meeting PM Modi on Thursday said that Bihar expects the Centre to provide financial assistance to the tune of Rs 1,07, 887 crore for different projects.
Nitish has submitted a nine-page memorandum of State's demand to PM and asked for around Rs 1L cr in the backdrop of an estimated loss of Rs 50,000 crore to Bihar due to the 14th Finance Commission recommendations.
Nitish said Bihar is among the three least benefited states under 14th Finance panel reports. As quoted by TOI, he said, "Given the 10% hike in states' share in central taxes from 32% to 42%, the net increase to Bihar is only Rs 2,500 crore, while Rs 12,300 crore has been reduced under the Plan head, thereby cutting the Plan size by Rs 10,000 crore (Rs 12,300 crore - 2500 crore). Bihar's share in central taxes, based on the finance panel indices has been reduced to 9.665% from 10.92% ... So, it's regressive".
The CM has sought special assistance for projects in rural works (Rs 32,600 crore), road construction (Rs 32,600 crore), agriculture (Rs 41,587 crore), panchayati raj (Rs 7,285 crore), urban development (Rs 12,355 crore) and tourism (Rs 5,912 crore). The road construction projects for which financial assistance was sought included Rs 4,988 crore for construction of a 9.76km bridge and approach road on the Ganga near Kachchi Dargah and Rs 3,160 crore for Ganga Expressway.
The demand for urban development included Rs 10,500 crore for Patna Metro Rail and Rs 1,105 crore under National Mission on cleaning Ganga. A sum of Rs 1,376 crore has been sought for roads along the bank of Ganga.
Giving the reference of the Andhra Pradesh Reorganization Act 2015, Bihar CM also sought Central assistance for the economic and industrial development in the state.