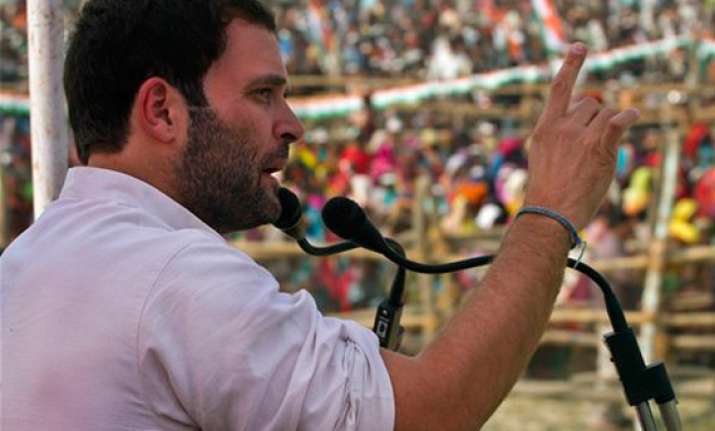 Varanasi, Feb 6: Congress general secretary Rahul Gandhi today said he was not "obsessed" with becoming the Prime Minister but remained committed to transform Uttar Pradesh where people have been "fooled" for the last 22 years by successive regimes. 

At a rare press conference, a combative Rahul sharply criticised BJP leader L K Advani on corruption in Karnataka, Uttarakhand, Jharkhand, Madhya Pradesh, Chhattisgarh and Punjab or in the "coffin scam" in the Kargil war in the course of his various yatras across the country. 

Answering questions on corruption, the Gandhi scion said when he proposed that the Lokpal be given Constitutional status, the opposition laughed at it. But this would happen. 

Asked about his sister Priyanka's comment yesterday that he was fit to be the Prime Minister, Rahul responded by saying that he was not "obsessed" with the post but was "obsessed with Uttar Pradesh" where he has been campaigning relentlessly during the Assembly polls.

"All the political leaders in India, all the top ones, have an obsession with prime ministership. This is not Rahul Gandhi's obsession. I have another obsession. 

"I want to correct the way we have been working in this state, I believe it is a monumental crisis not to hear to the voice of the people. I don't have any major strengths.

 "All I have is that some people in this country believe in me. Even if one per cent of the people in UP believe in us, that will be good for me," he said.
Rahul said said black flags, shoe or even bullets would not deter him. "Main kisi se nahin darta (I am not afraid of anything," he said.

Making a strong pitch for Constitutional status for Lokpal, he blamed the opposition for disallowing the passage of the key legislation.

Noting that there is a "beauty" in the design of the Election Commission which has Constitutional status, Rahul said, "let us make a Lokpal bill along the same lines. Let us make a Lokpal Bill which allows independence, which gives independence and power to Lokpal."

Attacking the opposition, he said, "Mr Advani and other opposition leaders laughed at me. I saw them with my own eyes sitting there and laughing. This idea is a fundamental, powerful idea of this country and they laughed. You ask them why they did not pass the Lokpal."

Holding that the opposition leader described it as Rahul's idea, he said this is infact "India's idea". The Congress leader asserted it was going to happen whether the opposition liked it to happen.

Attacking Advani over his yatra, he said the BJP leader overlooked corruption in BJP-ruled states.

"Whenever there has been a problem of corruption in Congress party, any place, any time, we will take action. We have put ministers in jail."

He also alleged that Gujarat Chief Minister Narendra Modi is currently fighting to stop appointing a Lokayukta in his state.
Rahul also exuded confidence that in these elections, the Congress would be revived in the state and the results in the coming elections for his party would be "solid". 

"Results for Congress would be solid...people are looking towards Congress. Wherever I am going people are saying that we were being befooled in the past 22 years," he said, stressing that his work would not be complete till common people, farmers, labourers get their due respect whether the party gets 200 or 400 or two seats.

On the issue of bringing back black money stashed away in foreign banks and the stand taken by Yoga guru Ramdev, Gandhi, who has been shown black flags by some of his supporters in some parts of the state, retorted that he (Ramdev) is sending "four or five supporters of his with black flags thinking that Rahul would run away". 

To questions on the strategy in case of a hung house, Rahul made it clear there would be no truck with any party as he has come here to bring a change.

"The strategy is simple that we would have a coalition with the poor and common people not with any party", he said. 

On the development of the state, he said in the board sense it would be possible only when all the people are included in it, the voice of all the people is heard and referred to the central schemes like MNREGS, right to food and right to education.

Asserting that there is a lot of potential in Uttar Pradesh, Rahul said he was "100 per cent sure that the state can be transformed .. the people and youth here have the energy to transform the state and all the UP needs is someone who can hold its hand and say it".

He stressed that the development of the state was also essential for the growth of the country . 

To a question on the division of state, he said it was a complicated issue and required experts' view.

"It concerns the future of crores of people and is a complicated issue.... Mayawati ji decided on it in 2 minutes without detailed discussion.... the view of experts needed to be taken in it", he said.

Stressing that unlike others he "never makes a personal attack on political opponents", Rahul said that "he has learnt a lot from Mayawati and Mulayam Singh Yadav and as a human being he respects them".

Rahul said that he "respects Kanshi Ram (BSP founder) as he moved politics in Uttar Pradesh".

On Mayawati and Yadav, he claimed both have distanced themselves from the people and "they do not want to bring about a change".

"I want to say with due respect to both Mayawatiji and Mulayam Singh ji that they do not want to bring about a change. It is the will power of the chief minister which can change a state", he said.

The Congress leader said he would not even mention BJP as it was non existent in UP.

"If any state is lagging behind the only reason for it is that the strength of the people is not being properly used there", he said.

Noting that the past governments in 22 years have only worked for 10 per cent of the population, he charged, "goondas and thieves came in power one after the other."

To questions on chairman of Knowledge Commission Sam Pitroda being projected as a "carpenter's son", Rahul said he was aware that "castes exist in UP" but stressed that Pitroda's case gives hope to all the dis-empowered in the country that if he can do something so can others.