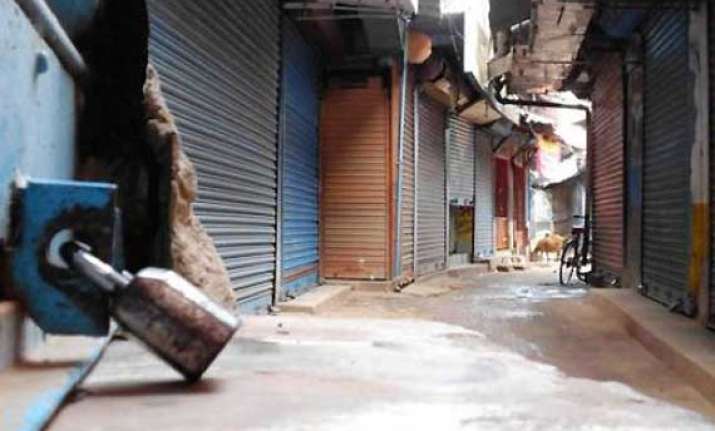 Sambalpur (Odisha): Normal life was hit in many areas of western Odisha as shops and offices remained closed and rail and road traffic disrupted during a bandh called by Koshal State Central Coordination Committee (KSCCC) demanding a separate Koshal state comprising ten districts of the region.
The dawn-to-dusk shutdown was called in the region seeking formation of a separate state comprising ten districts of Sambalpur, Bargarh, Subarnapur, Balangir, Nuapara, Boudh, Jharsuguda, Sundargarh, Deogarh and Kalahandi and Athmallik sub-division of Angul.
Describing the bandh as a complete success, KSCCC leader Upendra Mohapatra said the "shutdown was total and peaceful with people from all strata of society extending spontaneous support to the demand."
Shops, business establishments, educational institutions including colleges and schools remained closed, while people belonging to different sections took out rallies and staged demonstrations at many places.
Holding placards, the bandh supporters also picketed before different central and state government offices, banks and other financial institutions.
Agitators, including local residents obstructed train movement and blocked highways disrupting passenger train services. Both government and private buses remained off the road. Fuel stations, cinema halls, malls and other commercial centres also remained closed in the district.
In Sambalpur, considered as the nerve centre of administrative and commercial activities in western Odisha, life came to a halt as the bandh evoked overwhelming response from the people, the KSCCC leader claimed.  The impact of the bandh was also felt to a great extent in the steel city of Rourkela and industrial belt of Jharsuguda, he said.
Around 50 outfits including Kosal Kranti Dal (KKD), Kosal Raijya Kriyanushtan Committee, Kosal Sena and Kosal Parishad came together under the banner of KSCCC to observe the bandh demanding formation of a separate state.  Mohapatra said the Centre as well as the Odisha government should take immediate steps for creation of a separate Koshal state, otherwise the stir would intensify in the region which has remained backward and poor since Independence.
The shutdown remained by and large peaceful with no untoward incident reported from any place, a senior police officer said.