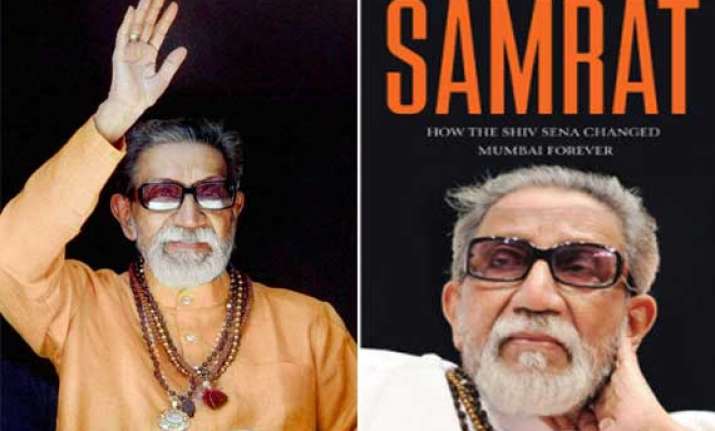 New Delhi: There were never any half measures about late Bal Thackeray - it was either all or nothing for the man who always knew what he wanted, says a new book which explores the life and times of the enigmatic Shiv Sena founder.
In "Hindu Hriday Samrat: How the Shiv Sena Changed Mumbai Forever", senior journalist Sujata Anandan provides an insight into how a rather timid man from a modest background was shaped by circumstances and vested interests into a demagogue with the kind of success and following few could dream of.
The author says Thackeray always called a spade a spade, cared little for the sensibilities of others and had absolutely no pretensions about anything, even if what he said made him look rather brutal at times and foolish at others.  However, it was not as though Thackeray was stubborn at all times and never open to change.
"On the contrary, as late playwright Vijay Tendulkar said, since he had no real ideology, he was able to suit his policies to the changing times or his own whims with no difficulty at all. Rather, he was like the mercurial queen in Lewis Carroll's 'Alice in Wonderland', who would order 'off with his head' one moment and on with it the next, then off again for no good reason at all except that it struck her fancy at that precise moment to do so," the book, published by HarperCollins India, says.
According to the author, this book is neither a biography of Thackeray nor a definite history of the Shiv Sena. "It is merely a labour of love that hopes to explain to readers unfamiliar with his life and times, and those who have only a narrow view of his parochial politics, the phenomenon that was Bal Thackeray."
The author says that towards the end of his days, Thackeray's anti-Muslim rhetoric underwent a subtle changed that remained unnoticed by many for a long time.  "The Sena tiger gave up roaring against Indian Muslims altogether.
Instead, he professed a love for Maharashtrian Muslims as part of his 'apla manoos' (our man) theory and reserved his fire for Pakistan and those professing allegiance to it," she writes.