Follow us on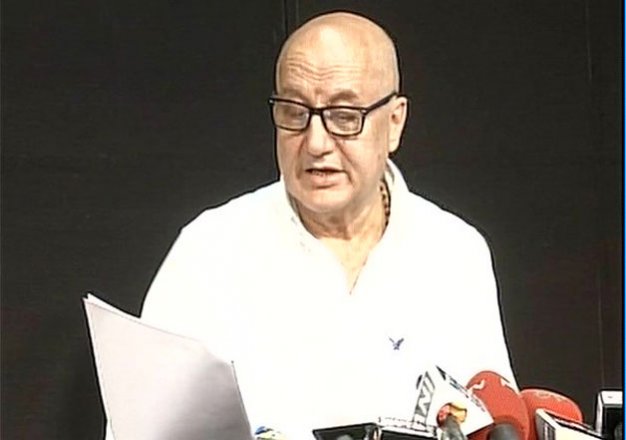 New Delhi: Veteran actor Anupam Kher on Tuesday evening held a press conference to counter the claims of the Pakistan High Commission that the actor had never applied for a visa.
Refuting the stand of the Pakistan High Commission, Kher presented documents of communication exchanged between him and the organisers of Karachi Literature Fest to prove his claims.
"I did not personally ask for a visa, the organizers of Karachi Literature Festival did. For last 15 days, all my visa documents are ready. The organizers of the Karachi literature fest said that government officials had told her not to invite Anupam Kher. I don't know why," said Anupam.
Kher claims that it is his point of view on Kashmiri Pandits and his pro-Modi stand which could have led to the visa denial.
When asked if he is angry over the whole issue, Anupam replied in the negative, saying that he was "hurt and saddened".
"I will go to Pakistan if I am given a visa in the future," the Padma awardee said.  
Controversy broke out when Anupam Kher expressed on Twitter that his Visa has been denied by the Pakistan authorities. Kher was due to attend the Karachi Literature Festival on February 5, as a speaker. However, of the 18 delegates slated to visit Pakistan from India for the event, he was the only one who didn't get the green flag to fly to Pakistan.
This morning, Pakistan High Commission stated that Anupam hasn't applied for the visa in the first place, refuting the claim that it had been denied.
While addressing the media, Anupam also expressed his empathy for Pakistan's issues, saying, "I was probably the only actor from Bollywood who wrote an open letter condemning the attack on Peshawar school."
He also urged the invitees of Karachi Literarure Fest to comment over his Visa denial.
"Want to know what others who are invited to Karachi think about me being denied visa, but yes I don't have anything against them," he said.
Within hours after his statement, the Pakistan High Commission has issued a statement in response to Anupam Kher's claims.
"We greatly respect Mr Kher. It is not correct to say that we denied him visa. Had he submitted his documents like other participants his visa application would have processed by now. Visa is processed when visa application is submitted, not on the basis of an invitation letter. His staff should have submitted his visa documents, the statement reads.