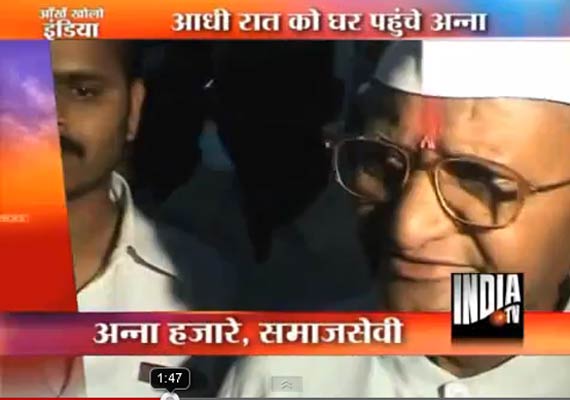 Ralegan Siddhi, Sept 1 : Social activist and anti-corruption crusader Anna Hazare received a hero's welcome when he reached his native village Ralegan Siddhi on Wednesday night. 

The entire village turned up to watch its most popular son returning after a marathon battle against the government on the issue of Jan Lokpal Bill.

After being discharged from a Gurgaon hospital on Wednesday evening, where he was was recuperating for four days after his 288-hour long fast, Anna left straight for Delhi airport from where he took the flight to Pune, and from therere reached his village. India TV reporter Bhumika Sharma was on the same Kingfisher flight, and followed Hazare to his native village.

On Thursday morning, Hazare had 'poha' and fresh coconut water for breakfast. He will take part in the Ganesha sthapana pooja in the afternoon in the village.

Hazare plans to address the Gram Sabha on Friday morning.

Hazare's sudden discharge from the Medanta Hospital was motivated by his strong desire to attend the Ganeshotsav Pooja in his village.

According to Hazare's associates, the Gandhian expressed the desire to celebrate the Ganesh Chaturthi festival on Monday in his native Ralegan Siddhi village in Ahmednagar district of Maharashtra.

His team also denied that Hazare left the hospital abruptly, although the doctors attending on him wanted him to spend a couple of days more there.

"He showed remarkable improvement and took solid diet for the first time in more than a fortnight this morning," said Shanti Bhushan, a member of his team.

Hazare left after he was given a go-ahead by Dr Naresh Trehan, chairman of Medanta - The Medicity hospital, where he was admitted after breaking his fast on Sunday.

To avoid the public rush and media glare, Hazare made his departure from an emergency gate of the hospital and was seen off by Dr Trehan and his team. The waiting television vans and his supporters did not come to know when he left.

Hazare is likely to stay in his village till the core committee meeting of his team on September 10 and 11, which he convened to chalk out the future strategy on the Lokpal issue. His team is also expected to begin deliberations on electoral reforms.