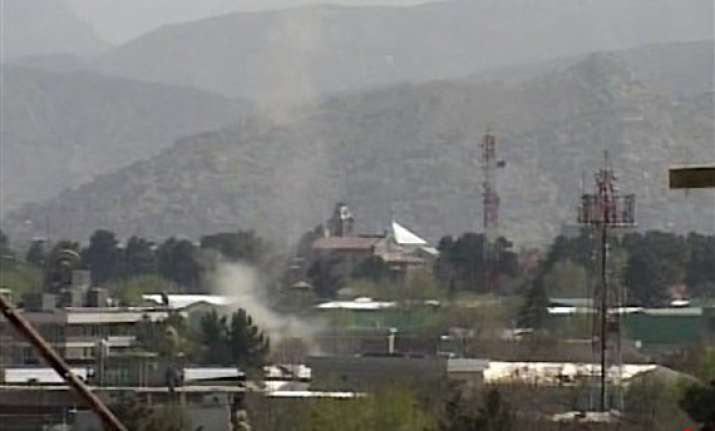 New Delhi, Apr 15:
All Indians are safe in Afghanistan after heavily-armed Taliban suicide bombers unleashed a wave of coordinated attacks in Kabul and three other cities and the situation is being closely watched by the Indian government.
"Indian Ambasador in Afghanistan Gautam Mukhopadhyay has briefed External Affairs Minister S M Krishna, who is presently on a visit to UAE, about the ground situation following the terror strikes," official sources told PTI.
The sources said all Indians are safe and government was closely watching the situation after explosions and firing rocked different areas in Kabul including at the diplomatic enclave.
The Ministry of External Affairs in a statement said it was in constant touch with the Embassy in Kabul and all Indians are reported to be safe.
"There have been reports of attacks in Kabul and other provinces of Afghanistan. Some of these attacks have taken place close to the diplomatic enclave in Kabul where many Embassies are located. We are in constant touch with our Embassy in Kabul. All Indian citizens are reported to be safe," it said.
ITBP Director General Ranjit Sinha said there was no threat to the Indian embassy as it was located three to four km away from the scene of the attack this afternoon by the Taliban gunmen.
The militants attacked five-star Kabul Star Hotel in Wazir Akhbar Khan area of the capital and some tried to enter the Afghan parliament but were engaged by security forces and driven back, according to officials.
The hotel is located close to American embassy, ISAF's headquarters, Turkish embassy, presidential palace, Iranian embassy and different other diplomatic offices.
Taliban claimed responsibility for the attacks. Any casualties is still unknown but Kabul police chief Mohammad Ayoubi Salangi was quoted as having said one attacker had been killed near the Parliament.
Sinha said following the attacks security had been beefed up at the embassy complex.
"We have strengthened and alerted our security at the Indian embassy in Kabul. All Indian installations and facilities are safe. I am in touch with the Indian embassy officials," ITBP Director General Sinha told PTI.
About 400 ITBP personnel guard the Indian embassy complex in Kabul.