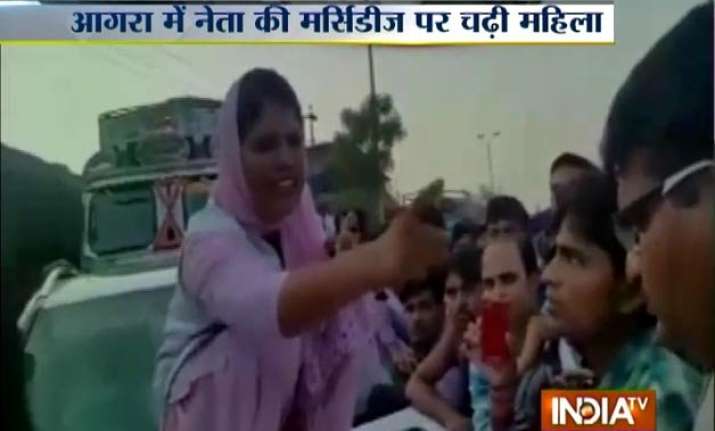 Agra: The courage displayed by a 23-year-old Agra girl is being hotly discussed on  social as well as mainstream media after a video of the girl taking on the security guard of a Samajwadi Party functionary went viral on the internet.
Sadhvi Pandey courageously clashed with the gunner of a Samajwadi Party functionary Abhinav Sharma after he winked at her at a busy traffic intersection.
The incident reportedly took place on Sunday evening when Sadhvi and her sister were going to see a doctor on her two wheeler vehicle. They stopped at a traffic signal alongside the cavalcade of local Samajwadi Party leader Abhinav Sharma.
Sharma's gunner reportedly winked at Sadhvi Pandey in a derogatory manner and tried to take her photo using his mobile phone, following which she jumped on to Sharma's Mercedes car and tore off the party flag fixed on the bonnet and used it to break the windshield.
A large crowd gathered around the car and as a result, other security personnel did not dare to stop her when she challenged Sharma and the gunner to come out. The cops came a while later and dispersed the crowd but the woman refused to climb down from the car demanding an apology from the gunner and money for her damaged phone.
The matter was settled after she was paid Rs 6,500 for her phone that was damaged in the scuffle.
Meanwhile Samajwadi Party leader and Rajya Sabh MP Naresh Agarwal has clarified that there is no leader by the name of Abhinav Sharma in Agra unit of his party.  
Gaurav Bhatia, another SP leader, said that whoever is guilty will be punished and the party is looking into the entire matter.