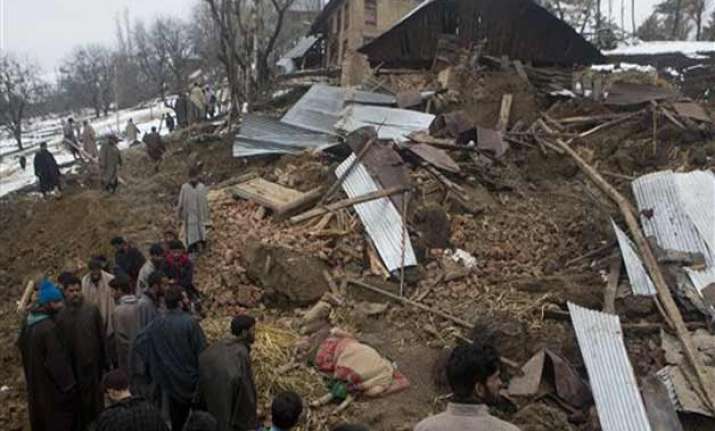 Srinagar: Six persons including a child have died while 10 others are believed to be trapped in the debris after a landslide brought down four houses in central Kashmir's Budgam district, police said today. 
Kashmir has been reeling under incessant rains for the past several hours and the landslide had buried the four houses along with their inmates.
"We have recovered six bodies so far from the debris of the houses at Laden village in Chadoora area of Budgam," a police official said.
The deceased include four women, a man and a child, and efforts are on to identify them, the official said.  He said, search is going on for 10 other persons believed to be trapped in the debris of the fallen houses.  
Incessant rain over the past 36 hours in Kashmir has caused landslides at many places while people from many areas vulnerable to floods have been evacuated to safer places.  More than 320 families have been moved to safer places in Kashmir valley as water level in river Jhelum was still above the flood level.
While over 250 families were shifted to safer places yesterday, another 80 families were evacuated today, police said.
More than 200 structures including 176 houses have developed cracks due to land sinking in Shopian district of south Kashmir, it said.
Jammu and Kashmir government today declared a flood situation in Kashmir valley as Jhelum river crossed the danger mark in Srinagar following incessant rains.