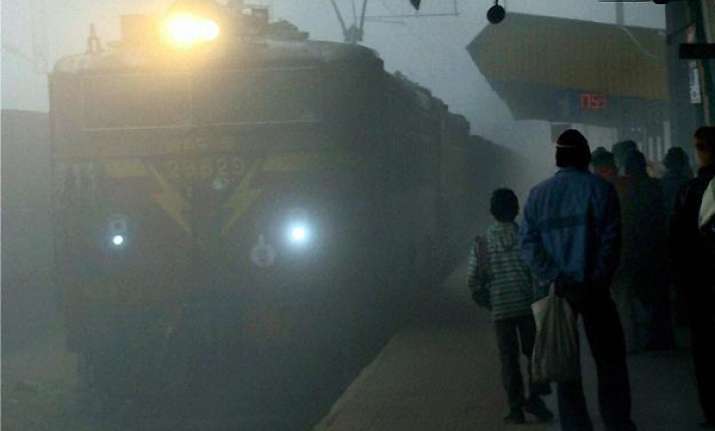 New Delhi, Dec 29: Thirty-one trains were cancelled on Wednesday due to the dense fog that enveloped the northern region.

While departure timings of seven trains were rescheduled, 31 trains are running several hours late, a Northern Railway official.

West Bengal Sampark Kranti Express and Farakka Express are running 24 hours and 18 hours, respectively, behind the schedule.

Acknowledging inconvenience to passengers, the official said "safety of passenger is the main issue for us. So trains cannot be allowed to run in poor visibility condition."

Loco pilots are being instructed to run trains in slow speed of 20km to 30 km per hour in foggy weather.

Railways have also partially cancelled 11 trains due to the weather condition, the official said.
NORTHERN  RAILWAY

NEW DELHI
Dated: 29.12.2011                             Time12.15Hrs.
RESCHEDULING OF TRAINS DUE TO FOG
TRAIN NO.
TRAIN NAME
FROM
TO
SCH. DEP.(HRS.)
RE.SCH. DEP(HRS.)
Passengers may check latest status of their train from Railway Enquiry No. 139, Railways website or New Delhi Fog Helpline No. 011-23747110
12330 of 28.12.11
WB SK EXP
DELHI JN.
SEALDAH
19.10
15.40 ON 29.12.11
12398
MAHABODHI EXP
NEW DELHI
GAYA
14.10
22.50
12388
JAN SADHARAN EXP
ANAND VIHAR
RAJENDER NAGAR
14.30
20.00
12190
MAHAKAUSHAL EXP
H. NIZAMUDDIN
JABALPUR
16.10
19.15
22824
RAJDHANI EXP
NEW DELHI
BHUBNESHWAS
17.20
5.30 ON 30.12.11
LATE RUNNING OF TRAINS MORE THAN ONE HOURS DUE TO FOG IN DELHI AREA
TRAIN NO.
TRAIN NAME
FROM
TO
SCH. ARR.(HRS)
LATE BY  (HRS.)
12189
MAHAKAUSHALEXP.
JABALPUR
H.NIZAMUDDIN
11.35
5.30
12138
SHATABDI EXP
LUDHIANA
NEW DELHI
22.05
2.45
12397
MAHABODHI EXP
GAYA
NEW DELHI
5.00
13.00
12427
REWA EXP
REWA
NEW DELHI
6.45
5.30
12401
MAGADH EXP.
ISLAMPUR
NEW DELHI
11.45
4.00
12329 of 28.12.11
WB SK EXP
SEALDAH
DELHI JN.
11.55
26.00
12501
POORVOTTAR SK EXP
GUWAHATI
NEW DELHI
13.00
4.00
12387
JANSADHARAN EXP
RAJENDER NGR
ANAND VIHAR
8.10
8.30
12423
RAJDHANI EXP
DIBRUGARH
NEW DELHI
10.10
2.00
22811
RAJDHANI EXP
BHUVNESHWAR
NEW DELHI
10.35
12.00
14673
SHAHEED EXP
JAYNAGAR
DELHI JN.
11.50
6.00
14083
SIKKIM MAHANANDA EXP
ALIPUR DWAR
DELHI JN.
18.10
15.30
12439
RAJDHANI EXP
RANCHI
NEW DELHI
10.50
1.45
12561
SWATANTRATA SAINANI
DARBHANGA
NEW DELHI
12.30
2.00
19024
JANTA EXP
FIROZPUR
NEW DELHI
12.35
1.30
12301
RAJDHANI EXP
HOWRAH
NEW DELHI
9.55
1.30
12313
RAJDHANI EXP
SEALDAH
NEW DELHI
10.20
1.00
12419
GOMTI EXP
LUCKNOW
NEW DELHI
14.00
1.00
CANCELLATIONOF TRAINS DUE TO FOG
TRAIN NO.
TRAIN NAME
FROM
TO
CANCELLATIONFROM - TO
54307
MORADABAD - DELHI PASS
MORADABAD
DELHI
CANCELLED TILL FURTHER ADVICE
12873
JHARKHAND S.J. EXP.
HATIA
ANAND Vihar
01.12.11
31.01.12
12874
JHARKHAND S.J. EXP.
ANAND VIHAR
HATIA
02.12.11
01.02.12
13'
JANATA EXP
HOWRAH
DELHI JN.
01.12.11
31.01.12
13040
JANATA EXP
DELHI JN.
HOWRAH
03.12.11
02.02.12
14005
LICHHAVI EXP.
SITAMARHI
ANAND VIHAR
03.12.11
02.02.12
14006
LICHHAVI EXP.
ANAND VIHAR
SITAMARHI
02.12.11
30.01.12
14309
UJJAINI EXP.
UJJAIN
DEHRADUN
02.12.11
01.02.12
14310
UJJAINI EXP.
DEHRADUN
UJJAIN
01.12.11
31.01.12
14043
GARHWAL EXP.
KOTDWAR
DELHI JN.
01.12.11
31.01.12
14044
GARHWAL EXP.
DELHI JN.
KOTDWAR
01.12.11
31.01.12
14115
ALLAHABAD- HARIDWAR EXP.
ALLAHABAD
HARIDWAR
01.12.11
31.01.12
14116
HARIDWAR-ALLAHABAD EXP.
HARIDWAR
ALLAHABAD
02.12.11
01.02.12
14265
VARANASI-DEHRADUN EXP.
VARANASI
DEHRADUN
01.12.11
31.01.12
14266
DEHRADUN-VARANSI EXP.
DEHRADUN
VARANASI
01.12.11
01.02.12
14307
PRAYAGRAJ-BAREILLY EXP.
PRAYAG
BAREILLY
02.12.11
01.02.12
14308
PRAYAGRAJ-BAREILLY EXP.
BAREILLY
PRAYAG
01.12.11
31.01.12
15011
LUCKNOW-CHANDIGARH EXP.
LUCKNOW JN.
CHANDIGARH
01.12.11
31.01.12
15012
LUCKNOW-CHANDIGARH EXP.
CHANDIGARH
LUKCNOW JN.
02.12.11
01.02.12
19771/19781
JAIPUR-AMIRTSAR EXP.
JAIPUR
AMRITSAR
01.12.11
31.01.12
19772/19782
JAIPUR-AMIRTSAR EXP.
AMRITSAR
JAIPUR
02.12.11
01.02.12
14211
INTERCITY EXP
AGRA CANTT.
NEW DELHI
02.12.11
01.02.12
14212
INTERCITY EXP
NEW DELHI
AGRA CANTT.
01.12.11
31.01.12
12460
INTERCITY EXP
AMRITSAR
NEW DELHI
01.12.11
31.01.12
14681
INTERCITY EXP
NEW DELHI
JALANDHAR CITY
01.12.11
31.01.12
14723
KALINDI EXP.
KANPUR
BHIWANI
01.12.11
31.01.12, TUE, THU, FRI, SUN
14724
KALINDI EXP.
BHIWANI
KANPUR CTL.
01.12.11
31.01.12, MON, WED,THU, SAT
13007/13008
UDHYAN ABHA EXP
HOWRAH/sRIGANGANAGAR
sRIGANGANAGARHOWRAH
CANCELLED ON DATE
14217/14218
UNCHAHAR EXP
ALLAHABAD/CHANDIGAR
CHANDIGARH/ALLAHABAD
CANCELLED ON DATE
13111/13112
LALQUILA EXP
DELHI/KOLKATA
KOLKATA/DELHI
CANCELLED ON DATE
12312
KALKA MAIL
KALKA
HOWRAH
CANCELLED ON DATE & 31 12 11
12311
KALKA MAIL
HOWRAH
KALKA
LEAVING FROM HOWRAH ON 29 12 11(CANCELLED)
TRAINS PARTIALLY CANCELLED DUE TO DENSE FOG
TRAIN NO.
TRAIN NAME
FROM
TO
REMARK
13112
LAL QUILA EXP.
DELHI JN.
KOLKATTA
Cancelled between Delhi Jn.-Kanpur Ctl. From 03.12.11 to 02.02.12
13111
LAL QUILA EXP.
KOLKATA
DELHI JN.
Cancelled between Kanpur Central-Delhi Jn. from 02.12.11 to 31.01.12
14217
UNCHAHAR EXP.
ALLAHABAD JN.
CHANDIGARH
Kanpur Cntl. -Chandigarh From 01.12.11 to 31.01.12
14218
UNCHAHAR EXP.
CHANDIGARH
ALLAHABAD JN.
Chandigarh-Kanpur Cntl. From 01.12.11 to 31.01.12
64953
MATHURA JN - NIZAMUDDIN PASS
MATHURA
NIZAMUDDIN
Cancelled between Palwal - Nizamuddin
13008
UDYAN ABHA EXP.
SRIGANGANAGAR
HOWRAH
Cancelled between Sriganganagar-Mugulsaraifrom 03.12.11 to 02.02.12
15003
CHAURI CHAURA EXP.
KANPUR ANWARGANJ
GORAKHPUR
Cancelled between Kanpur Anwarganj-Allahabad from 03.12.11 to 01.02.12
14711
INTERCITY EXP
HARIDWAR
SRIGANGANAGAR
Cancelled between Haridwar-Saharanpur from 2.12.11 . to 31.1.12
14712
INTERCITY EXP
SRIGANGANAGAR
HARIDWAR
Cancelled between Saharanpur-Haridwar from 2.12.11 to 31.1.12
15004
CHAURI CHAURA EXP.
GORAKHPUR
KANPUR ANWARGANJ
CANCELLED BETWEEN ALLAHABAD-KANPUR ANWARGANJ FROM 02.12.11 TO 31.01.12
54075/76
SHAHJAHANPUR - DELHI PASS
SHAHJHANPUR
DELHI
Cancelled between Shahjahanpur - Sitapur City
13007
UDYAN ABHA EXP.
HOWRAH
SRIGANGANAGAR
Cancelled between Mughusari-Sriganganagar from 01.12.11 to 31.01.12