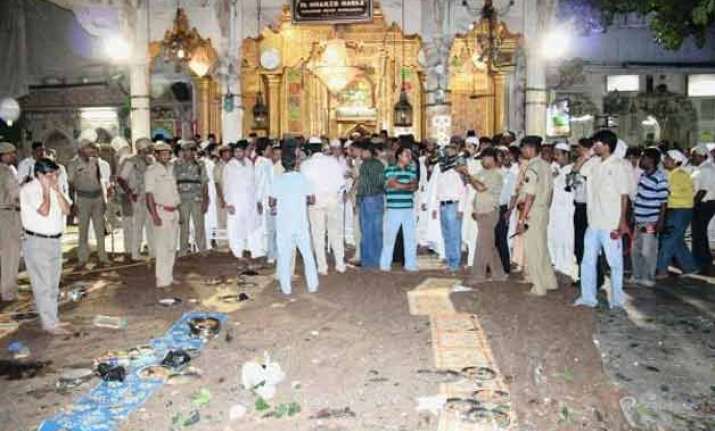 Jaipur: After Malegaon blast, the trial of the Ajmer blasts is under cloud with an assistant public prosecutor in Rajasthan saying that as many as 13 key witnesses in the case have turned hostile between November 2014 and May 2015.
In October 2007, a bomb blast in the Dargah of Moinuddin Chisti in Ajmer killed three and wounded more than a dozen.
The Rajasthan Anti-Terror Squad (ATS) and later the National Investigating Agency (NIA) took over the case and chargesheeted 12 people. Many of the accused were former members of the RSS, or belonging to fringe groups.
It's not unusual for witnesses to change their statements, but turning 13 witnesses hostile is quite rare.
One of the witnesses Randheer Singh, who has gone back on his statement, is a minister in Jharkhand's BJP government, said the assistant public prosecutor of the Ajmer blast case Ashwini Sharma.
"Singh was declared hostile in the court on May 6, 2015, as he went back on his statements," prosecutor Sharma said.
Randheer Singh had told the investigative agencies that he had seen two of the accused in the Ajmer blast case test-fire a weapon. He, however, refused making any such statement while testifying in court.
The trial is being conducted by a CBI court (special judge) in Jaipur.
"The 'material witnesses' on whose testimony the case's outcome depends started coming from November last year. One by one, they started turning hostile," said Sharma.
"The whole case of the prosecution depended upon these star witnesses," Sharma added.
The statements of these witnesses were recorded in before a judicial magistrate to ensure there is no pressure from investigators. But starting in November 2014, they began to turn hostile claiming that they were pressured by the NIA to testify. The last such flip by a witness was in May 2015.
Just last week, Rohini Salian, the special public prosecutor in the Malegaon case, had said that she was asked by the NIA to go slow in the case after BJP-led NDA came to power in May last year. 2008 Malegaon blasts case also involves accused from Hindu outfits.