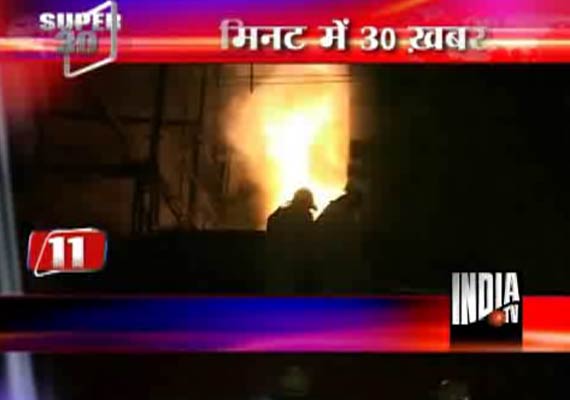 New Delhi, April 28: Ten workers were charred to death in a massive fire at a shoe factory in west Delhi's Peeragarhi industrial area, officials said Thursday.

Around 80 people were working in the three-storey building at the time of fire and many more casualties are feared.

Delhi Chief Minister Sheila Dikshit has ordered a probe into the incident and a case has been registered by the police.

The factory is in Udyog Nagar in Peeragarhi area in west Delhi. The fire broke out at 7.10 p.m. Wednesday.

'Ten bodies have been pulled out of the debris so far. We fear there will be many more people buried under the debris,' a fire brigade official said.

'It took almost 12 hours for firefighters to douse the flames. Twenty-five fire tenders were rushed to douse the flames. The fire was brought under control this morning, at around 7.50 a.m.,' said the official.

However, fire brigade officials had to wait for the blazing hot debris to cool before they could begin rescue operations. They began rescue work at 2 p.m. Thursday.

'We have registered a case and are investigating whose negligence it was. We have a list of ten missing persons and ten bodies have been recovered so far which have been sent to the hospital. However, it is still not clear whether they are the same people as on the list,' Additional Commissioner of Police V. Renganathan said late Thursday evening.

'We will interrogate all concerned and take the statement of the workers. Investigation is on. The fire brigade team is still there,' he added.

Most of the workers were migrants from Bihar and Uttar Pradesh. Peeragarhi is a residential-cum-indutrial area, with several factories and also some residential houses.

The list of missing persons are Rajkumar, Bittoo, Manoj, Ajay, Ravi, Mohammad Faizad, Mohammad Sattar, Sunil, Chandrashekhar and Anil, officials said.

According to officials, the fire began on the third floor of the building, which was an open space, before it spread. The cause of the fire is yet to be ascertained.

There were 60-80 people working in the factory, of whom 22 were on the rolls while the rest were employed through contractors on daily wage basis. The factory owner has been identified as Narender Singla, said police.

According to fire officials, the factory had not obtained a No-objection Certificate (NOC).

'Prima facie it appears that the building stored too many cartons and all the exits and escape routes were blocked as a result. There is a wire mesh on the walls that did not allow those trapped inside to jump. The windows were also blocked. The cause of fire can only be ascertained after the rescue operation is over,' Director of Delhi Fire Service A.K. Sharma said.

'There should have been a few more openings of the factory. The fire fighting equipment seems to have been in place but were dysfunctional,' a senior fire department official working on the spot said.

The chief minister has meanwhile directed Deputy Commissioner G.S. Meena to conduct an enquiry into the incident and submit his report within 15 days.

A grieving relative of one of the victims blamed the authorities for delay in the rescue operation. 'The rescue work began very late. We had suggested that they should break the wall to rescue those trapped but the authorities took a long to take a decision and by that time it was too late,' she cried.

'Five of my friends were working there, all are missing. The police are not letting us in, I don't know what to do,' 42-year old Rravikant Rajput said.

Rajput, who worked in the factory a few years back said the building had small gates. He also said that fire incidents had occurred in the factory several times earlier, but no one died.

Ram Nath, another witness, said he saw only one boy escaping.

'I was here till 1.30 a.m. and saw only one boy escaping, I don't know what happened to the others,' he said.

This is the fourth incident of fire in Peeragarhi in three months. On Feb 15, 2011, a polyvinyl chloride factory caught fire but no one died in the incident. Just ten days later on Feb 26 another fire broke out in a shoe factory, killing four including a child. On March 13, a fire was reported yet again from another shoe factory but no loss of life was reported.