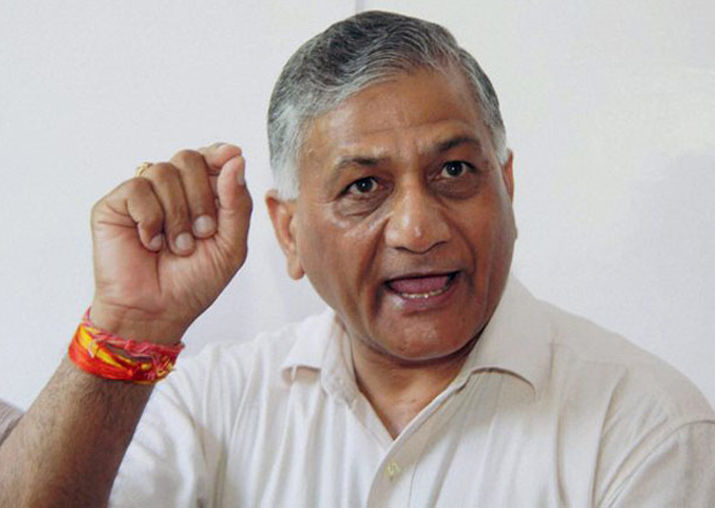 Minister of State for External Affair VK Singh today explained how the government authorities with the help of their Iraqi counterparts managed to locate the 39 Indian workers who were killed by dreaded terror group Islamic State.
In an exclusive interview on India TV, Singh rubbished all allegations that the government misled the nation and relatives of deceased persons about their whereabouts.
He said that the government never misled anyone on the matter and that always presented accurate facts related to the search of all Indian citizens in the war-torn nation.
Singh also explained why it took four years to locate the Indian citizens in Iran. He said that all had gone to the war-torn nation illegally, therefore the Indian embassy had no information about them.
"We left no stone unturned in trying to locate citizens and bring them back," he said. "I left for Iraq immediately after Mosul was declared liberated."
A total of 40 Indians were originally abducted by ISIS in 2014 from Mosul but one of them escaped by posing as a Muslim from Bangladesh.
"The Indian embassy had no data related to them, thus, it was difficult to establish their identity. The government first extracted their identity and we managed to trace them," he said, adding that bodies were recovered from Badush - a village northwest of Mosul, and their identities established through DNA testing.
Singh further said that Prime Minister Narendra Modi was personally keeping a track on steps taken by MEA to locate Indian citizens.
According to Foreign Minister Sushma Swaraj, the DNA testing by Martyrs Foundation has established the identity of 38 Indians while there has been 70 per cent matching of the DNA for the 39th person.
Led by its elusive leader Abu Bakr al-Baghdadi, ISIS had seized a third of Iraq's territory in 2014, before being pushed back by the security forces backed by a US-led coalition. They are accused of mass killings of innocent civilians including many foreigners.
Watch: Gen. VK Singh speaks to India TV on Iraq crisis