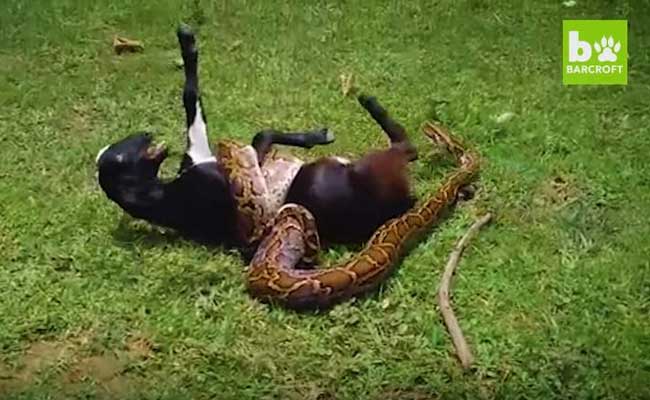 Lucknow: A group of villagers came to the rescue of a goat which was on its way of becoming lunch of a hungry python.
The incident occurred near Katarniaghat Wildlife Sanctuary in Uttar Pradesh's Bahraich district, a protected area in the upper gangetic plain.
The video,shared on YouTube on July 18, shows a python wounding itself tightly around the goat and it appeared ready to eat the animal whole while villagers can be seen watching the snake and goat's tussle, trying to think of something to do.intervened.
Frantic Villagers, some carrying cricket bats and others large tree branches, can be heard wailing as their initial attempts to scare the snake away are unsuccessful.
Goat was struggling for its life as it was crushed by a python.
Eventually, one of the men steps in to help the goat. After one of the villagers delivered a nasty blow to the python's head, the snake relinquished its grasp, allowing the goat to scamper away as the python slithered into nearby bushes.