Follow us on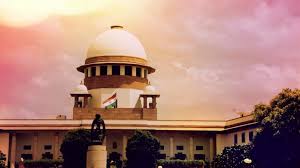 The Supreme Court has designated six female lawyers, including Madhavi Goradia Divan, Additional Solicitor General (ASG), as senior advocates.
Besides Divan, the other five lawyers are Aishwarya Bhati, Menaka Guruswamy, Anitha Shenoy, Aparajita Singh and Priya Hingorani.
It was part of the March 27 announcement when the top court designated 37 lawyers as senior advocates
Divan was appointed ASG on December 17, 2018 and is slated to hold office till June 30, 2020. An alumnus of St. Stephen's College, she obtained law degree from the Pembroke College, University of Cambridge, the UK. 
She began practicing law in the Bombay High Court and later moved to the Supreme Court where she has represented Gujarat and Madhya Pradesh governments. 
Divan also argued in the Triple Talaq case in the Supreme Court and pitched to criminalise the practice. 
Bhati was appointed the Additional Advocate General of UP in Supreme Court in 2017. Originally from Rajasthan, she completed her L.L.B. from the Jodhpur University. 
Bhati is a former Secretary of the Supreme Court Bar Association and has represented UP in the Taj Mahal preservation case.
Guruswamy, known for her contributions to the decriminalisation of the Section 377 offences, has worked at a law firm in New York and also as a Human Rights Consultant to the UN. 
She taught at the New York University School of Law and practiced law for the Office of the Attorney General of India. She holds an LLM from the Harvard Law School. She also studied law as a Rhodes Scholar at the Oxford University where she was awarded a Doctor of Philosophy in Law. 
She holds a law graduate degree from the National Law School of India University, Bengaluru. 
Shenoy, an advocate-on-record at the Supreme Court, is a 1995 graduate of the National Law School, Bengaluru, and has been the standing counsel for Karnataka in the Supreme Court. 
After working with senior advocate Indira Jaising for five years, she set up her independent practice. She has handled various environment cases, including the Subansiri hydropower project and the Mopa airport, in the Supreme Court.
Singh is recognised for her contribution as amicus curiae in a matter related to air pollution. Due to her arguments, the Supreme Court banned the sale of any Bharat Stage III vehicles across India from April 2017. She has practiced as a junior with senior advocates U.U. Lalit and Harish Salve. 
She has represented a committee that suggested a common working plan on rehabilitation of destitute widows.
Hingorani, active since 1990, has primarily practiced at the Supreme Court and has also appeared in the high courts of Delhi, Kolkata, Mumbai, Punjab and Haryana, Odisha, Jharkhand, Bihar, Uttarakhand and J&K as well as various tribunals and subordinate Courts. 
She has handled matters pertaining to diverse fields of law, including taxation, customs and excise, insurance, family and matrimonial law, commercial law, labour and service law, human rights and constitutional law. She was asked by the the Supreme Court to assist amicus curiae Ranjit Kumar in overseeing the Jagannath Temple reform in Puri.
Till date, only eight women lawyers were designated as senior advocates. The first lawyer to be made a senior advocate by the Supreme Court was Indu Malhotra, now a Supreme Court judge. Malhotra was designated senior advocate in 2007.