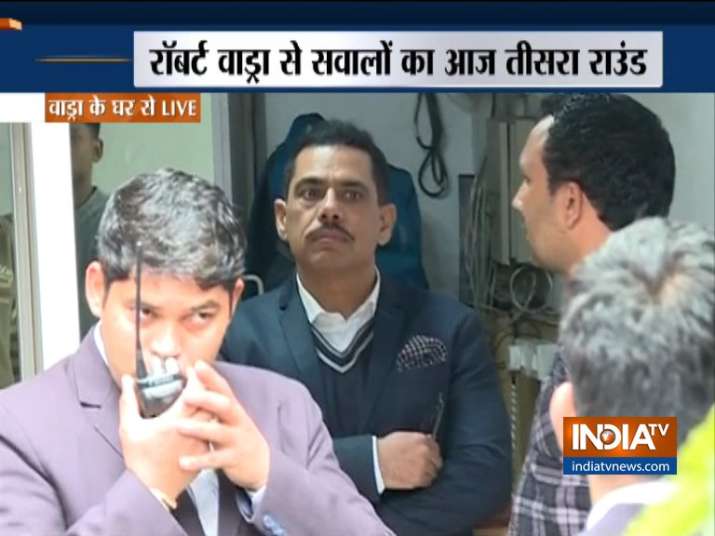 Robert Vadra, son-in-law of former Congress president Sonia Gandhi, on Saturday appeared before the Enforcement Directorate (ED) for the third time in connection with a money laundering case.
Vadra has reportedly handed over many documents, relating to his income and properties, to the Enforcement Directorate. Vadra is being asked questions regarding his links with Sanjay Bhandari, Sumit Chadha and CC Thampi. 
The ED is reportedly questioning him regarding allegations of money laundering in purchase of assets abroad. Robert Vadra arrived at the central probe agency's office at Jamnagar House in central Delhi at about 10.45 am in his private vehicle.
Officials said the investigating officer (IO) of the case required Vadra to answer more questions in connection with the case and hence was asked to depose on Saturday, after his two sessions of questioning on February 6 and 7.
The agencies are tightening the noose around Robert Vadra in connection with "benami" properties. 
Robert Vadra was questioned for 6 hours by ED on day 1. On day 2, he was questioned for 9 hours. It remains to be seen how much time Vadra spends in ED office today.
Robert Vadra is being questioned by the Enforcement Directorate after instructions from the court.
On Friday, Rahul Gandhi said that he had no problems with Robert Vadra's questioning as long as it was done within limits of the law.
The ED learned about Vadra's property in London while it was probing Sanjay Bhandari's black money stashed overseas. 
Bhandari had confessed about Vadra's London propert but he fled the country later on. 
Accusing Vadra of not cooperating in the investigations, the ED has sought permission for his arrest but the court asked the agency not to arrest him till February 16.