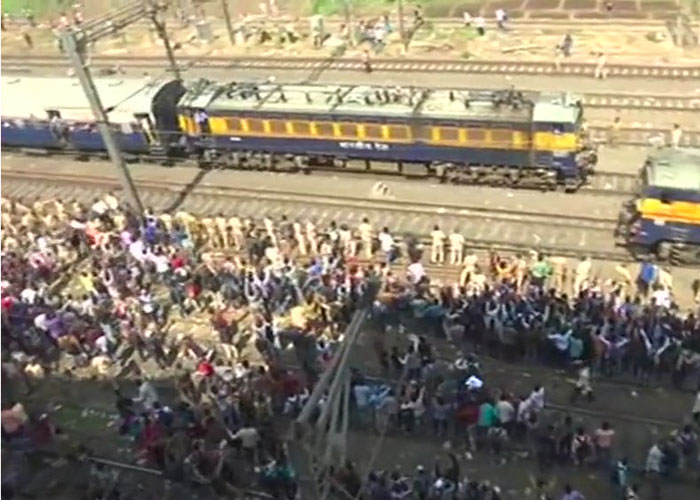 The train services on railway's central line between Matunga and Dadar stations were on Tuesday disrupted after job aspirants protested on the railway tracks due to issues related to railway recruitment. However, services were later resumed after the agitating students called off their protest.
The students from across the country were protesting for jobs in railways. As per reports, the job seekers even hurled stones after they were stopped from protesting by the police personnel.
Scores of agitated students demanding jobs in railways blocked rail traffic, including suburban services between Matunga and Dadar stations, causing difficulties to lakhs of commuters, a Central Railway official said. 
HERE ARE THE LIVE UPDATES:
11:28 am: Agitators have called off their protest and further discussions will be held: Railway Minister Piyush Goyal 
11:27 am: Recruitment in Railways is underway at a large scale. On directives of Supreme Court, Indian Railways has made a recruitment policy that is unbiased and transparent: Piyush Goyal
11:24 am: Was in continuous touch with officials. No rules have changed, 20 per cent seats are reserved for apprentices but they are demanding more. Lathicharge was done after agitators started pelting stones, no one was injured: Maharashtra CM Devendra Fadnavis 
11:00 am: Train services resume on Central line after job aspirants call off agitation.
#WATCH: Railway traffic resumes between Dadar & Matunga, agitating railway job aspirants still present at the spot where they have been protesting, between Matunga & Chhatrapati Shivaji Terminus railway station. #Mumbai pic.twitter.com/J72KIhc38b

— ANI (@ANI) March 20, 2018
10:23 am: Entire four lines are affected between Matunga and CSMT. Police and railway official are having talks with them, the official said. 
Due to agitation by Railway apprentices between Dadar and Matunga Rly Stations, Train services of Central Railways affected.

— Mumbai Police (@MumbaiPolice) March 20, 2018
09:45 am: "There has been no recruitment since last four years. We are struggling from pillars to post. Over 10 students have committed suicide. We cannot let such things happen," a student who was part of the protest said. 
09:30 am: "We will not budge from here until and unless Railway Minister Piyush Goyal come and meet us. Our several prayers made to DRM (Divisional Railway Manager of Mumbai Division) have failed," another student said.
09:00 am: Meanwhile, commuters are having a harrowing time as the protesters are halting local as well as long route trains.
Mumbai rail roko: Local train services disrupted after protests by job aspirants