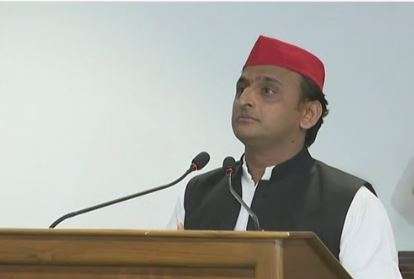 Commenting on the entire Lucknow bungalow controversy, former Uttar Pradesh Chief Minister Akhilesh Yadav said that "People got jealous."
"Wooden flooring along with many other things in the bungalow are intact. One damaged corner of the house was photographed in a way to make it look as if the house was left in a bad state." junior Yadav said on vacating his official bungalow.
"Via pictures efforts are being made to misguide," he said, on Wednesday, and added that Yogi Adityanath government is conspiring against him.
There was no swimming pool in the bungalow, Yadav said.    
Uttar Pradesh Governor Ram Naik asked the state government to take action over the reported damage to the bungalow vacated by former chief minister Akhilesh Yadav, calling it a serious matter involving the taxpayer's money.
In a letter to Chief Minister Yogi Adityanath, the Governor said reports about the damage at 4, Vikramaditya Marg, were doing the rounds in the media and among the common people. 
He said this was a "serious matter". 
"The residences allocated to the former chief ministers belong to the Estates department and their maintenance is done through the taxpayers' money," he wrote. 
"The state government needs to take proper action as per the rules into the damages caused to the state's property," Naik said. 
The bungalow was vacated by the Samajwadi Party leader in compliance with a Supreme Court order that former chief ministers were not entitled to any government accommodation in Lucknow. 
Video clips and photos had shown damage to a cycle track, on walls after air-conditioners seemed to have been removed and to the floor of what appeared to be a badminton court at the vacated bungalow. 
Yadav had then said it was an attempt by the Bharatiya Janata Party to defame him. 
The Governor also called the Estates department officials and was told that videography had been done at the houses vacated by the former chief ministers. 
After the video clips surfaced, estates department official Yogesh Kumar Shukla had said officials will check the inventory of fittings provided at the bungalow. 
The department will serve a notice if there was any damage done.
(With PTI inputs)