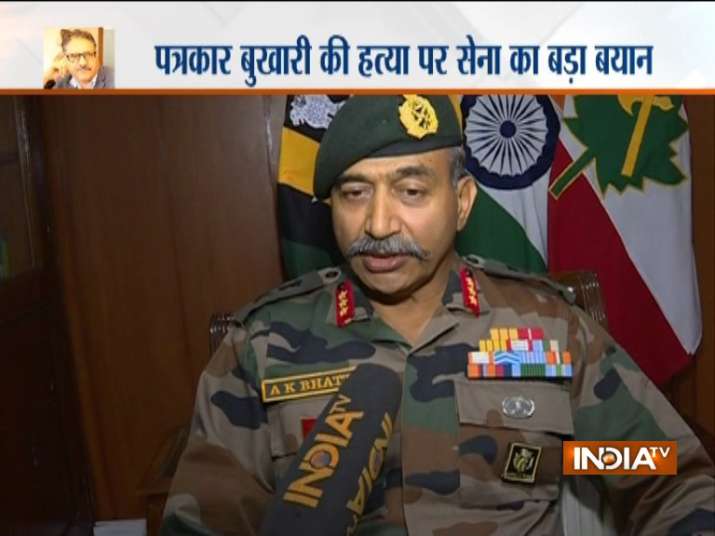 The dastardly killing of veteran journalist Shujaat Bukhari along with his two personal security guards in Srinagar on Thursday (June 14) evening was planned and executed by Pakistan's notorious intelligence agency - Inter-Services Intelligence (ISI), a top Indian Army official said on Friday.
Srinagar Command JOC Lieutenant General Anil  Bhatt told IndiaTV in an exclusive interview that there was no doubt that the broad daylight attack on Rising Kashmir newspaper editor-in-chief was the handiwork of Pakistan's ISI.
Earlier, the Jammu and Kashmir Police released two pictures of three bike-borne men who are suspected to have killed Shujaat Bukhari, and sought the public's help in identifying them. 
The three militants were caught on a CCTV camera, the police said. The two pictures showed the three men riding a motorcycle. The attackers had their faces covered. 
Lt Gen Bhatt described the abduction and killing of Army jawan Aurangzeb as a cowardly act while adding that at least 250-270 terrorists were waiting to sneak into Indian territory from launchpads present on the other side of the Line of Control (LoC) and international border.
Indicating towards a distrurbing trend, he said that the number of local terrorists has increased in the last 3-4 months and added that Pakistan is providing modern ladder and thermal jackets to militants to help them infiltrate into India.
Lt Gen Bhatt said that the providing security cover for the upcoming Amarnath Yatra was a challenging task for his men. "The Indian Army is ready to tackle any situation," he said. 
Watch: Pak ISI behind killing of veteran journalist Shujaat Bhukhari, says Army