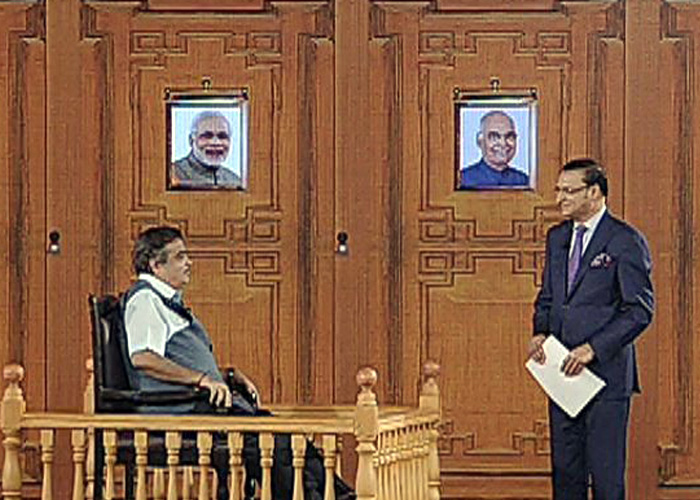 Union Road Transport, Shipping and Water Resources Minister Nitin Gadkari has said that the BJP will definitely win the forthcoming assembly elections in Rajasthan, Madhya Pradesh and Chhattisgarh.
He ruled out any chance of an Opposition combine winning next year's Lok Sabha elections, saying that "in politics, two plus two never becomes four". 
Replying to questions in Rajat Sharma's show 'Aap Ki Adalat', to be telecast tonight on India TV, Gadkari reminded that in 1971, the then Jana Sangh, Swatantra Party, Congress(O) and Socialist Party had combined to forge a Grand Alliance against the then Prime Minister Indira Gandhi in the general elections, but "it was Indiraji who swept the elections". 
When asked how BJP would get 73 out of 80 seats in UP in next year's Lok Sabha polls, if Samajwadi Party and Bahujan Samaj Party joined hands, Gadkari replied: "In politics, two plus two never adds up to four."
When it was pointed out that the SP and BSP this year had joined hands to defeat BJP candidates on three key LS seats in UP byelections, Gadkari said: "Two or three byelections do not matter. It is very difficult to forge a strong alliance on state or national level. There are many ifs and buts."
About Rajasthan, Gadkari said: "It has been that state's record that voters vote alternatively for a party. But even there, I am confident about our party's victory."
Asked about NDA allies being unhappy with the BJP, and the Telugu Desam Party leaving the NDA, the Union Minister said: "In the history of our democracy, all alliances till date have been made out of compulsions. Politics is a game of contradictions, compulsions and limitations. Ideally, an alliance should have been based on ideologies, economic programme or a common programme, and not as part of a politics of convenience."
To a pointed question that if the BJP failed to get  majority after Lok Sabha polls next year, could he be the RSS' choice for Prime Minister, Nitin Gadkari's reply was: "This is a wrong perception (galatfahmi). Neither am I the RSS' choice, nor do I dream of becoming the Prime Minister. 
"I always keep a low profile, and I am a down-to-earth person. I never submitted my bio-data to anybody, nor do I ever allowed my cutouts to be put. For me, in life, politics has always been an instrument of social reforms. I like to work for the country. 
"I am happy with my present assignments, and I believe that I have got more in life than what I deserved. Mujhme na PM banne ki icchha hai, na main RSS ka choice hoon. I am only a Swayamsevak of RSS. Please do not drag me into any controversy."
On the current spiral in prices of petroleum products, Gadkari said, "the only solution is alternative fuel, like ethanol, methanol, bio-diesel, bio-CNG and electric vehicles. We need to cut down on oil imports and speedily promote the use of ethanol, methanol and other alternative fuels.
"My colleague Dharmendra ji (Pradhan) recently brought a note before Cabinet proposing reopening of some of the oil wells that had been shut, at lower royalty rates. This can boost our crude production. For alternative fuels, I am openly offering 100 bio-digesters in Ganga river. We have the technology to produce methane from polluted water, separate carbon dioxide from methane, and use bio-CNG to run our buses. This is technology proven. 
"Similarly, the huge amount of paddy husks (parli) that are burnt in Haryana, UP and Punjab, during winter could be used to produce ethanol. One tonne of paddy husk can generate 280 litres of ethanol, and our Petroleum Minister is ready to offer Rs 59 to Rs 61 to make ethanol."
Gadkari said that his Ganga Rejuvenation ministry is presently working on 258 projects to clean up the river. "Out of this, 12 projects are being implemented by Delhi government alone. We are working to clean up the river Ganga, and its 40 tributaries and streams. 
"We are working on 34 projects for river Yamuna. In Mathura, We have assigned to Triveni Engineering under Hybrid Annuity Mode, a project to clean up the Yamuna. The treated waste water will be bought by Indian Oil for its refinery at a cost of Rs 19 crore.
"By March end next year, 70 to 80 per cent of Ganga will be cleaned up. Similarly, to make Ganga river a perennial source during summer, we are bringing out a notification within 8 days, so that the river can carry water up to one metre deep even during summer. By next year end, Ganga will become 'nirmal' (clean) and 'aviral' (perennial)."
The Union Minister said, he would be inaugurating the Ro-Ro (roll on, roll off) ferry service between Mumbai and Alibaug on October 12. This service will ferry 100-150 cars and 15-20 buses, and will shorten the time taken from Mumbai to Goa by road from three hours to 40 minutes. 
Similarly, Gadkari said, the Delhi-Mumbai expressway is being built, which will shorten travel time to 12 hours. "This new expressway will connect Delhi to Mumbai via Alwar, Sawai Madhopur, Ratlam, Jhabua and Vadodara. Land acquisition in these tribal dominated areas will save the government Rs 16,000 crore. I want to complete it in 30 months."
On reducing vehicle congestion in Delhi, Gadkari promised to reduce air pollution by 50 per cent within the next two months. "Haryana is building a ring road, which will be ready in two months. We have already built the Eastern Bypass, which has already reduced air pollution by 27 per cent. Once the ring road is completed, all vehicles from Jammu and Kashmir, Himachal Pradesh, Punjab, and Haryana, bound for UP and Rajasthan can easily bypass Delhi. Once we introduce electric vehicles, and ethanol run vehicles, Delhi will become pollution-free."
(Aap Ki Adalat show with Nitin Gadkari was telecast Saturday night at 10 pm on India TV. The repeat telecasts will take place tomorrow, Sunday at 10 am and 10 pm.) 
Watch: Ganga will be pollution free by the end of next year: Nitin Gadkari in Aap Ki Adalat