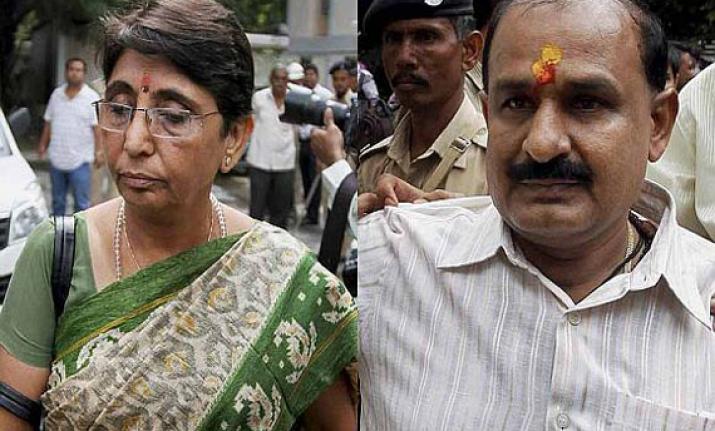 The Gujarat High Court on Friday acquitted former BJP minister Maya Kodnani and upheld the conviction of former Bajrang Dal leader Babu Bajrangi in 2002 Naroda Patiya riot case.
In 2012, a special court for SIT cases had sentenced 32 people, including Maya Kodnani, to life imprisonment. The trial court had held that she was the mastermind of the violence in Naroda area. Another high-profile accused, Babu Bajrangi, was given life imprisonment till death.
Special Public Prosecutor Prashant Desai said all 12 convicts have been awarded 21 years of imprisonment without remission. 11 witnesses gave different statements on Maya Kodnani's presence at the location but there were contradictions.
Naroda Patiya riot is one of the worst incidents which followed the Godhra train burning incident of February 27, 2002, in which 59 kar sevaks were killed.
HERE ARE THE HIGHLIGHTS:
11:25 am: The Gujarat High Court acquitted former BJP minister Maya Kodnani in Naroda Patiya riot case.
11:22 am: Seven accused were given enhanced life imprisonment of 21 years, which they will serve after undergoing 10 years' imprisonment under IPC section 326 (causing grievous hurt). Remaining accused were given simple life imprisonment (14 years).
11:18 am: The trial court also acquitted 29 other accused for want of evidence.
11:07 am: While the convicts challenged the lower court's order in the high court, the Special Investigation Team (SIT) appealed against the acquittal of 29 people.
11:02 am: During the course of hearing, the high court judges had visited the site of the incident in Naroda Patiya area here -- where 97 people from the Muslim community had been killed -- to understand its topography.