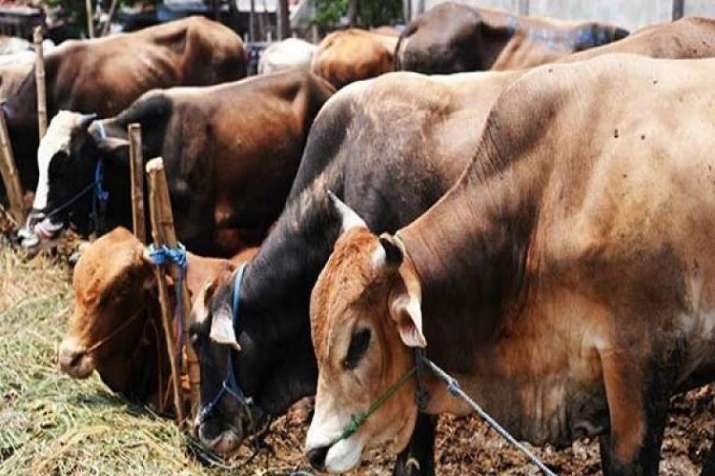 Following his elevation to the rank of a cabinet minister in Madhya Pradesh government, Swami Akhileshwaranand Giri, also the Chairman of the Madhya Pradesh Gau Samvardhan Board (Cow Protection Board) on Wednesday urged the state government for the formation of 'Cow Ministry' in the state.
"I request the Madhya Pradesh government to constitute a cow ministry. The chief minister Shivraj Singh Chouhan himself is a farmer and people like me will help him in this," he said.
As per the board's proposal to the government, the ministry can avail of a part of the funds earmarked for the Mahatma Gandhi National Rural Employment Guarantee Act works.
"When Anand Mantralaya (Ministry of Happiness) can be constituted, why can't there be a Gau Mantralaya? Chief Minister Shivraj Singh Chouhan himself keeps a cow at his residence. The Gau Samvardhan Board has prepared a proposal and conveyed it to the CM," Swami Akhileshwaranand said.
"Currently matters related to the cow are dealt with by the Animal Husbandry Department. We want a ministry exclusively for the cow. The cow should be kept out of the animal category," Giri said. The board has a meagre annual budget of Rs 16 crore and no powers, so a separate ministry is needed, he added.
The ministry can promote "cow-related industry", create jobs for rural youth and conduct research in the field of cow breeding, he said. Rajasthan has set up a directorate for cows, but it too is inadequate, he opined. "Over 1.5 lakh cows are taken care of at 604 registered Gaushalas (cow shelters) in MP. Around the same number roam free on roads. The number of cows is expected to increase by 25 per cent in the next livestock census," he said.
"The board has proposed that out of MNREGA funds (around Rs 15,000 crore for the state), Rs 1,000 crore can be given to the cow ministry. MNREGA also covers works related to livestock protection," Giri said.
He also thanked CM Chouhan for increasing the grant for cow shelters to Rs 17 per animal against the earlier Rs 1.50.