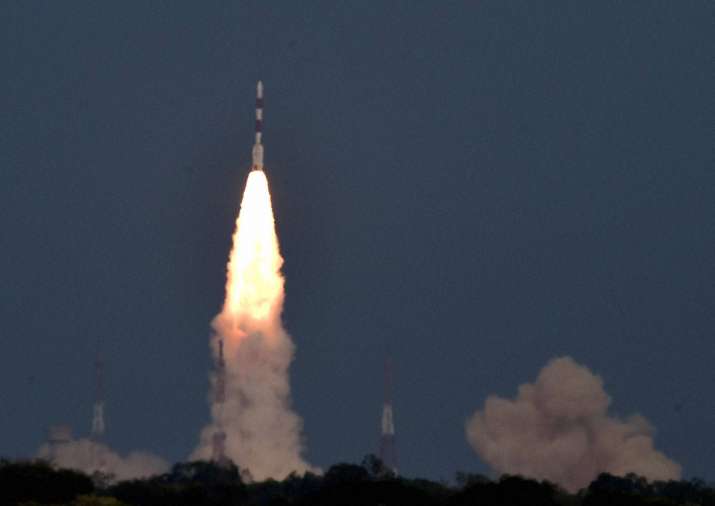 Sriharikota (Andhra Pradesh): India today inched closer towards getting enrolled in the list of nations processing their own-satellite based navigation systems after the successful launch of its sixth navigation satellite called IRNSS-1F with a rocket of its own.
The Indian Regional Navigation Satellite System (IRNSS) consists of a constellation of seven satellites, of which the sixth was put into orbit on today.
Immediately after the 1,425-kg IRNSS-1F satellite was injected into space by the Polar Satellite Launch Vehicle (PSLV-C32) rocket, scientists at the mission control centre clapped their hands in joy.
"The sixth navigation satellite has been put into orbit successfully. The seventh navigation satellite is expected to be launched some time next month," A.S. Kiran Kumar, ISRO chairman said soon after.
The Indian Space Research Organisation (ISRO) will raise the satellite to its home slot over the next couple of days.
The satellite, with a design life span of 12 years, has two payloads for navigation and ranging.
The navigation payload of IRNSS-1F will transmit navigation service signals to the users. This payload will be operating in L5-band and S-band. A highly accurate rubidium atomic clock is part of the navigation payload of the satellite.
The ranging payload of IRNSS-1F consists of a C-band transponder (automatic receivers and transmitters of radio signals) which facilitates accurate determination of the range of the satellite.
IRNSS-1F also carries Corner Cube Retro Reflectors for laser ranging.
Till date, India has launched six regional navigational satellites (IRNSS-1A, 1B, 1C, ID, 1E and 1F) as part of a constellation of seven satellites to provide accurate position information service to users across the country and the region, extending up to an area of 1,500 km.
Though the full system comprises nine satellites -- seven in orbit and two on the ground as stand-by, the navigation services could be made operational with four satellites, ISRO officials had said earlier.
While the sixth satellite went up today, the seventh - IRNSS-1G - is expected to be launched in the second half of 2016.
Once the regional navigation system is in place, India need not be dependent on other platforms.
According to ISRO, even with the operationalisation of five IRNSS satellites, the proof of concept of an independent regional navigation satellite system over India has been demonstrated for the targeted position accuracy of better than 20 metres over 24 hours of the day.
(With IANS inputs)