Follow us on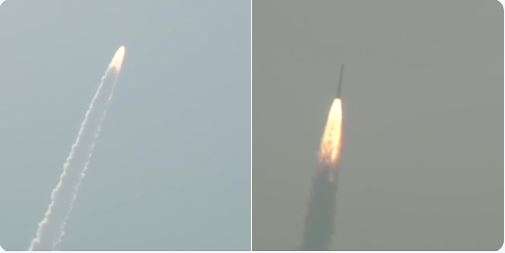 Indian Space Research Organisation​'s (ISRO) PSLV-C45 lifted off from Satish Dhawan Space Centre on Monday morning, carrying EMISAT and 28 customer satellites on board. 
EMISAT is an electronic intelligence satellite of the Defence Research Development Organisation (DRDO).
About 17 minutes after the take-off at 9.27 a.m., the rocket ejected the 436 kg EMISAT into a 749 km orbit.
"There is an increased demand for satellites from strategic sectors. About six or seven satellites are planned to be built," a senior official on the condition of anonymity said.
India will also launch two more defence satellites sometime in July or August with its new Small Satellite Launch Vehicle (SSLV) rocket.
After putting the EMISAT into orbit, the rocket will be brought down to put the 28 foreign satellites -- 24 from the US, two from Lithuania and one each from Spain and Switzerland -- in orbit at an altitude of 504 km.
The 28 satellites weigh about 220 kg.
India has successfully lifted and put into orbit 297 foreign satellites till date.
 "PSLV-C45 is a very imp milestone for ISRO. It's not only going to launch our own satellite but also those from other nations. Uniqueness of this mission is,it's going to place satellites in 3 different orbits. I hope it'll be 100% success as usual," ANI quoted ISRO ex-chairman G Madhavan Nair, as saying.
WATCH VIDEO:
(With inputs from agencies)