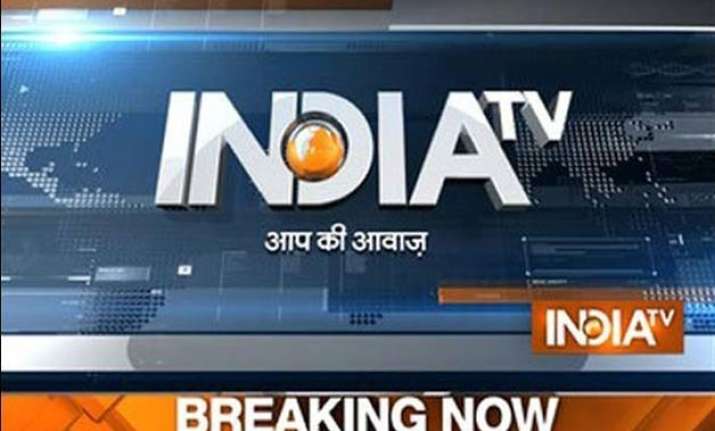 National News
Centre rushes 4 NSG teams to Gujarat following terror alert, hunt on to nab militants
Ahmedabad/New Delhi: The Centre has rushed four teams of the National Security Guard (NSG) to Gujarat following reports that 10 Pakistani militants have entered the state and may target sensitive installations. Read More
Post surrender, police grill Andhra minister's son for allegedly molesting teacher
Hyderabad: Ravela Susheel, son of Andhra Pradesh's Minister for Social and Tribe Welfare Ravela Kishore Babu, was questioned by the Hyderabad police today following his surrender in an alleged molestation case at the Banjara Hills police station after his lawyer failed to get him a bail. Read More
Fishermen to lay siege to Parliament on Mar 10: NFF
Puducherry: Members of the National Fish Workers Forum (NFF) will lay siege to the Parliament on March 10, in support of the fishermen's charter of demands, including a separate ministry for fisheries.
Opposition marketing tolerance as they lack issues: Anupam Kher
Kolkata: Bollywood actor Anupam Kher has accused the opposition of 'marketing' the tolerance-intolerance debate as they lacked issues and were unable to stomach their defeat in the Lok Sabha polls. Read More
International News
Pakistan asks India to send 24 witnesses to depose in 26/11 trial
Lahore: Pakistan has asked India to send all the 24 Indian witnesses to depose before the anti-terrorism court holding the Mumbai attack trial, the chief prosecutor in the high-profile case said on Sunday. Read More
ISIS being wiped out in Afghanistan: Ashraf Ghani
Kabul: Afghan President Ashraf Ghani says the Islamic State group has been defeated in eastern Afghanistan, where it had taken over some remote districts. He added forces had dislodged Islamic State loyalists from regions of Nangarhar province bordering Pakistan. He says Afghanistan will be a "graveyard" for IS. Read More
Sanders wins in Kansas, Nebraska; Hillary wins in Louisiana
Washington: Bernie Sanders has defeated Democratic front-runner Hillary Clinton in a caucus elections in the heartland states of Kansas and Nebraska, US news reports said. The Vermont senator had lost significant momentum to the former US secretary of state following last week's Super Tuesday vote. Read More
Business News
BoB case: CBI searches 10 locations in NCR
New Delhi: CBI sleuths carried out searches at 10 locations in India's National Capital Region (NCR) region in connection with the case of alleged illegal remittances to the tune of Rs 6,000 crore to Hong Kong and Dubai from a branch of Bank of Baroda.
Government can't waive tax on Vodafone, Cairn: Revenue Secretary
New Delhi: Revenue Secretary Hasmukh Adhia today said that government cannot waive the multi-billion dollar tax liabilities that Vodafone and Cairn Energy face, although it has done the most it could in offering to remove interest and penalty if the principal is paid. Read More
Tata Housing ties up with SBI for Women's Day offer
Mumbai: Real estate developer Tata Housing has partnered with the country's largest lender, State Bank of India, on the occasion of the International Women's Day. Tata Housing will allow its women customers to pay only 20 per cent of the agreement value while the balance can be paid on taking possession of the property.
Entertainment News
Wait for me to announce my wedding: Bipasha Basu
Mumbai: Bollywood actress Bipasha Basu has denied engagement with rumoured boyfriend Karan Singh Grover after she was seen wearing a sparkler in the ring finger. Bipasha, 37, and her 34-year-old "Alone" co-star Karan were snapped last evening coming out of a spa.
Amitabh starrer 'Te3n' to attract tourists to Bengal
Kolkata: With a major part of the upcoming Bollywood thriller "Te3n" being shot in West Bengal, the Amitabh Bachchan and Nawazuddin Siddiqui starrer will soon be used by the state government to attract tourists.
Manoj Kumar to direct film on Aryabhata
Mumbai: Veteran Bollywood actor-filmmaker Manoj Kumar is working on his next directorial venture which would be based on Aryabhata, the famous mathematician from the classical age. "I'm going to return as a director soon. I am working on a film on Aryabhata. It is an interesting story to tell viewers about his contribution," said Kumar.
Sports News
Asia Cup 2016, Final: India vs Bangladesh – Rain threat looms large
Hours before the toss, heavy rain lashes Bangldesh capital Dhaka and it's reported that floodlights at the Sher-e-Bangla National Stadium are off. The cut-off time for a 5-over game is 10:45 local time (10:15 IST).
Pro star Vijender in Olympics'' Looks unlikely
New Delh: The International Boxing Association (AIBA) may have thrown the Olympic door open for professional boxers but it is unlikely that Indian star Vijender Singh would be able to grab the opportunity even though he is keen to make it.
Afridi not in favour of Butt making a comeback
Karachi: Pakistan Twenty20 skipper Shahid Afridi does not seem to be in favour of tainted cricketer Salman Butt making a comeback to the national team. Butt, who completed a five-year ban for spot-fixing last September, was in contention for a immediate comeback to international cricket but Afridi showed his reluctance.