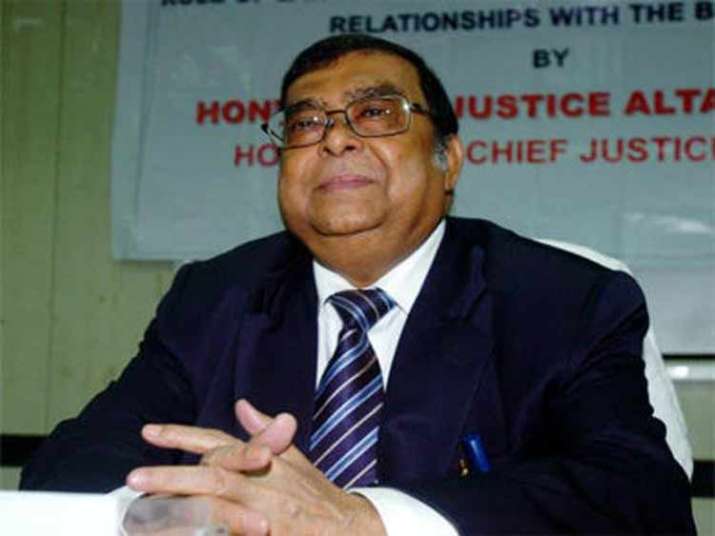 Former Chief Justice of India Altamas Kabir who was undergoing treatment at Apollo hospital in Kolkata passed away today after suffering from a prolonged illness.
He was 68, and leaves behind his wife Minna, son Deep and daughter Anamika, family sources said.
Kabir breathed his last at 2.52 p.m. at Apollo Gleneagles Hospital, where he was admitted on February 8 with multiple problems, including the end stage of renal failure.
"Kabir, who had a kidney transplant in 2007, was suffering from end stage renal disease, urinary tuberculosis, type 2 diabetes mellitus, hypertension," the hospital said in a statement.
He had also undergone angioplasty in 2005.
He was treated at the hospital multiple times in the past two years. On February 8, he was admitted with complaints of fever with chills, urinary retention, haematuria (presence of red blood cells in the urine) and extreme weakness.
Kabir served as the 39th Chief Justice of India from September 29, 2012 till his retirement on July 19, 2013.
Condoling Kabir's demise, President Pranab Mukherjee, said India has lost "an eminent and progressive jurist".
"Deepest Condolences on passing away of former CJI Justice Altamas Kabir. We have lost an eminent and progressive jurist," he said in a tweet.
"Shri Altamas Kabir shall be particularly remembered for his initiatives with regard to legal reforms," he said in another tweet.
Congress President Sonia Gandhi remembered him as an outstanding legal luminary and said: "As a judge, Kabir's contribution to legal and justice system of India shall never be forgotten."
"His commitment to human rights and constitutional propriety was exemplary," she added.
West Bengal Chief Minister Mamata Banerjee said the country has lost a legal luminary.
"My thoughts (are) with his family/ colleagues. India and Bengal have lost a legal luminary," she said in a tweet.
Paying rich tributes to Kabir, retired Supreme Court Justice Asok Kumar Ganguly highlighted his humane approach in dealing with litigation and litigants.
"He was a very close friend. Kabir was a judge who had a lot of humane feelings. He always felt about the litigants. He often heard cases till 6-30 p.m. He also did a lot in protecting human rights," Ganguly told IANS.
Kabir was born on July 19, 1948, in a famed Bengali Muslim family in Faridpur district (now in Bangladesh). His father Jehangir Kabir was a noted politician, who served in the cabinets of three Chief Ministers of Bengal.
His uncle Humayun Kabir was a noted educationist and writer, and also held important cabinet portfolios under Prime Ministers Jawaharlal Nehru and Lal Bahadur Shastri.
A meritorious student, Altamas Kabir studied at Mount Hermon School, Darjeeling, and Calcutta Boys' School in the eastern metropolis before graduating with History from Presidency College. Later, he secured a degree in Law from Calcutta University.
He enrolled as an advocate in 1973, taking up both civil and criminal cases in the district courts and the Calcutta High Court.
He was appointed a permanent Judge in the Calcutta High Court on August 6, 1990, and played a key role in the computerisation of the High Court and lower judiciaries.
He became the Acting Chief Justice of the Jharkhand High Court on January 3, 2005, and the position was made permanent on March 1, 2005.
He was elevated to the Supreme Court of India on September 9, 2005, and his tenure at the apex court lasted for 2,870 days.
As the Chief Justice of India, Kabir held office for 292 days.
(With inputs from IANS)