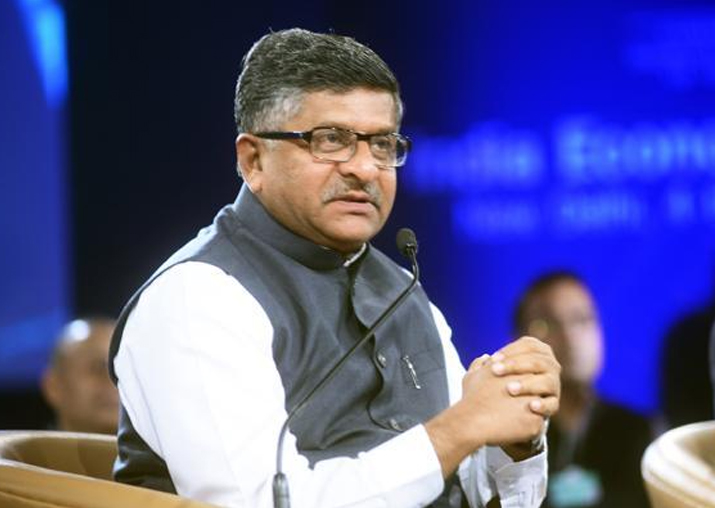 Alarmed by the United Kingdom government's investigation into data-mining firm Cambridge Analytica, Minister for Communications & Information Technology Ravi Shankar Prasad on Wednesday warned the data company and social media platforms against the misuse of technology for manipulation of elections in India. 
Referring to British news organisation Channel 4's documentary on data firm's alleged involvement in securing Donald Trump's victory in the 2016 presidential elections through stolen details of 50 million Facebook users, the Union minister said that India will not stand the manipulation of elections through social media.
Facebook is facing a major backlash after reports emerged that the political data analytics firm, Cambridge Analytica, accessed the data of its 50 million users without their permission.
The company received the user data from a Facebook app years ago that purported to be a psychological research tool, however, the firm was not authorised to have that information.
Prasad on Wednesday questioned links between the Congress and Cambridge Analytica, a data mining firm accused of harvesting personal information from Facebook illegally to influence polls in several countries, and wondered if it will now depend on "data theft" to woo voters to win 2019 Lok Sabha elections.
The Union minister cited media reports about the opposition party's plan to use the firm's services for the next Lok Sabha elections and to boost its president Rahul Gandhi's profile.  
The firm, Prasad said, has been accused of using "sex, sleaze and fake news" to influence elections and asked if the Congress too plans to walk the same path. 
"The Congress must explain if it has engaged in data trade with Cambridge Analytica," he said, questioning the opposition party's "silence" despite numerous reports of its link with the company. 
Targeting the Congress, he said the number of Gandhi's Twitter followers had shot up recently and wondered if it was due to the services of the firm that he achieved this "fake popularity". 
Prasad alleged that Congress party had links with Cambridge Analytica. 
"Will the Congress now depend on data manipulation and theft to woo voters?" he asked.
"My question to Congress party is whether to win elections, Congress will depend on data manipulation and theft of data," he said. "What is the role of Cambridge Analytica in social media profile of Rahul Gandhi," he asked. 
He alleged that Cambridge Analytica, the agency roped in by Congress to run their 2019 campaign and termed as their 'Brahmastra' in certain section of media, is accused of using bribes, sex workers to entrap politicians and stealing data from Facebook. 
Prime Minister Narendra Modi asks BJP leaders to remain digitally and physically connected with the masses, he said, but the Congress seems to be depending on the digital medium to make up for its lack of connect on the ground. 
The minister used the occasion to warn social media platforms like Facebook of 'strong action' if any attempt was made by them to influence the country's electoral process through undesirable means. 
It is not a question of liaison between the Congress and a data firm but about attempts to influence democratic processes which his government would not allow, he said and warned Facebook founder and CEO Mark Zuckerberg against any abuse of data of Indians on its platform.
Amid probe by US privacy watchdog over a potential breach of user confidentiality by Facebook, Prasad said the government fully supports freedom of press, speech and expression and is for exchange of ideas on social media. 
But any attempt by social media sites, including Facebook, to influence India's electoral process through undesirable means will not be tolerated, he told reporters in Parliament House complex in New Delhi. 
"If need be, strong action will be taken," he said. 
Privately-held Cambridge Analytica was created in 2013 to participate in American politics. It is an offshoot of British firm Strategic Communication Laboratories, which "provides data, analytics and strategy to governments and military organizations worldwide". Some of its key campaigns include 2016 US Presidential elections for Donald Trump and "Leave EU campaign in the very early stages of its "Brexit" campaign". 
Earlier on Tuesday, co-founder of WhatsApp Brian Acton asked the users to "delete" the social media platform, Facebook, amid alleged data leakage of its users for political purposes.
"It is time. #deletefacebook," Brian Acton tweeted to more than 23,000 of his followers.
WhatsApp was acquired by Facebook in 2014.
UK's data protection watchdog on Tuesday sought a court warrant to search the London headquarters of the political data analytics consultancy that worked with Donald Trump's election team and allegedly harvested Facebook profiles of US voters to influence their choices at the ballot box.
The UK Information Commissioner also ordered the auditors hired by Facebook to stand down when they visited the Cambridge Analytica headquarters.
Meanwhile, lawmakers from the US and the UK have called for action following the reports of the data leak of the Facebook users.
(With inputs from PTI, IANS)