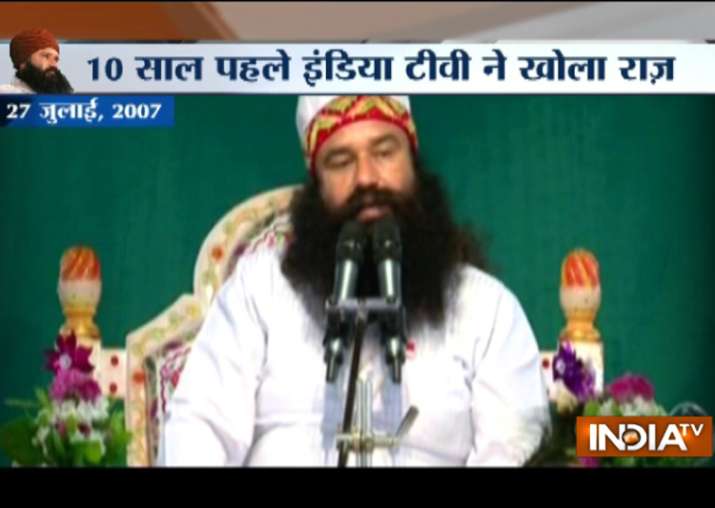 Exactly a decade ago, India TV had aired an interview of the driver of Ram Rahim on the allegations of rape and murder involving the Dera Sacha Sauda chief.
India TV today on Saturday aired the same interview in which Ram Rahim's driver Khatta Singh spoke about Dera chief's crimes. In the course of the operation, Khatta Singh said on India TV that Ram Rahim killed his chief aide Ranjit Singh, brother of a woman alleged rape by the controversial baba, to destroy evidences.
According to Khatta Singh, who had stood as a witness before the CBI in December 2006, informed that there is a 'secret cave' inside the ashram where arrangements like five-star hotels are in place and it is here only where Ram Rahim was sexually exploiting his female followers. The video also showed the letter that Ranjeet Singh's sister had written to Atal Bihari Vajpayee and Chief Justice of Punjab and Haryana HC about Ram Rahim's sins.
At that time, the CBI, which took over the investigation in September 2002 at the behest of Punjab and Haryana High Court, had taken cognizance of the video to take its probe further and also the case to a logical end.
Fifteen years after probing the case thoroughly, a special CBI court had on August 25 convicted Ram Rahim. The quantum of punishment will be pronounced on Monday (August 28).
It was in April 2002, when an anonymous letter written to Punjab and Haryana High Court Chief Justice and then PM Atal Bihari Vajpayee was delivered complaining about the sexual exploitation of woman followers at Dera Sacha Sauda in Sirsa. In May 2002, the High Court had directed Sirsa district and sessions judge to probe the allegations in the letter. The HC had in September same year handed matter to the CBI after district court indicates possibility of sexual exploitation.
The case was finally registered in December 2002 and July 2007, the CBI had filed chargesheet against the Dera head in an Ambala court. The chargesheet referred to the sexual exploitation of two 'sadhvis' (women followers) between 1999 and 2001. The special CBI court framed charges against Gurmeet under sections 376 (rape) and 506 (criminal intimidation) of the IPC in September 2008. Between 2009 and 2010, two complainants record their statements before the court. A year later, the special CBI court shifted from Ambala to Panchkula. The case against the Dera chief also transferred to Panchkula CBI court.