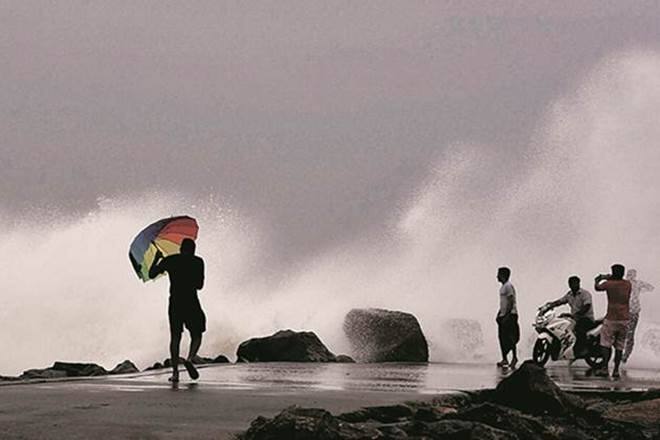 Cyclone 'Fani' intensified into a 'severe cyclonic storm' on Monday evening and is headed towards the Odisha coast, the India Meteorological Department (IMD) said. It could take a shape of an 'extremely severe cyclone' by Wednesday, prompting the government to put the National Disaster Response Force and the Indian Coast Guard on high alert, officials said.
# Cyclone Fani, currently raging in the Bay of Bengal, is the most powerful storm yet in the pre-monsoon cyclone season.
# The storm currently lays about 620 km east of Trincomalee (Sri Lanka), 880 km southeast of Chennai (Tamil Nadu) and 1050 km south-southeast of Machilipatnam (Andhra Pradesh).
# It is very likely to intensify into a severe cyclonic storm during next six hours and into a very severe cyclonic storm during subsequent 24 hours. 
# It is very likely to move northwestwards till May 1 evening and thereafter recurve north-northeastwards gradually.
# The National Crisis Management Committee (NCMC) took stock of the situation arising out of the cyclone 'Fani' and assured the state governments concerned of all assistance from the central government to face the storm.
# The National Disaster Response Force (NDRF) and the Indian Coast Guard have been put on high alert and the fishermen have been asked not to venture into the sea as cyclone 'Fani' is expected to intensify into a very severe storm by Tuesday.
# The wind speed of a cyclonic storm is 80-90 kilometres per hours with wind gusting up to 100 kmph. In case of an 'extremely severe cyclonic storm', the wind speed goes up to 170-180 kmph and could gain the speed of 195 kmph. 
# 'Fani' is being allowed a track along the periphery of the ridge standing like a wall over Andhra Pradesh-Odisha until tomorrow (Monday), following which the latter is forecast to crumble. 
# Under the impact of the cyclone Fani, Tamil Nadu and Andhra Pradesh are likely to receive heavy rains on April 30 and May 1.