Follow us on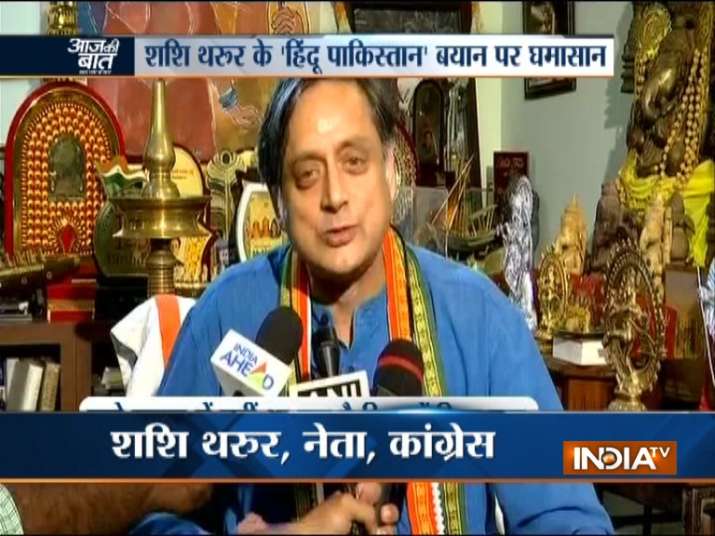 Dissociating itself from  party MP Shashi Tharoor's remark that if the BJP is voted to power, it will pave the way for creation of a "Hindu Pakistan", the Congress on Thursday advised its leaders to choose words carefully while rejecting the saffron party's "hatred". 
Thiruvananthapuram MP Shashi Tharoor kicked up a row on Wednesday by saying that if voted to power again, the BJP will rewrite the Constitution and pave the way for creation of a "Hindu Pakistan".
In a series of tweets on Thursday, Congress' communication in-charge Randeep Surjewala said that India can't be compared with Pakistan because the country's values and fundamentals are an unequivocal guarantee of "our civilisational role".
"India's values and fundamentals are an unequivocal guarantee of our civilisational role & set us apart from the divisive idea of Pakistan," Tharoor tweeted. 
"All Congress leaders must realise this historic responsibility bestowed upon us while choosing words and phraseology to reject BJP's hatred," he added.
Launching a scathing attack on the Narendra Modi government, Surjewala said that  it thrives upon "an unprecedented atmosphere of division, bigotry, hatred, intolerance and polarisation" for the last four years. 
Surjewala asserted that the Congress represents India's civilisational values of pluralism, diversity, compassion and harmony between faiths and ethnicities.
Responding to a question, Congress spokesperson Jaiveer Shergill told media persons that irrespective of the government that comes to power, Indian democracy will never allow the country to become Pakistan. 
"Congress advises each of its leaders and workers to exercise restraint, caution and choose their words and statements wisely. And remember that the Indian National Congress stands for a pluralistic multi-cultural, multi-faith society," Shergill said. 
"Every worker of the Congress should not be provoked by the BJP's polarising and dividing statements and that is the basic difference between us and them," he said. 
Shergill said India was far ahead of Pakistan and the Congress had made a "very valuable contribution" in this regard. 
"I would like to say that, despite the fact that till date the prime minister has never opened his mouth or given an apology on the objectionable remarks of the BJP leaders, despite the fact that the BJP invites Pakistan's ISI into India, despite the fact that the BJP thanks Pakistan for elections in Jammu and Kashmir, despite the fact that the BJP ministers garland criminals, India can never become Pakistan, irrespective of the government," he said.
Earlier in the day, reacting sharply to Tharoor's "Hindu Pakistan" remark, the BJP alleged that it was an attack on both "Hindus" as well as the "Indian democracy".
Taking strong exception to Tharoor's remarks, BJP spokesperson Sambit Patra demanded an apology from Congress president Rahul Gandhi.
Patra alleged that Tharoor's remarks reflected his hatred for both Hindus as well as Indians.
"Shashi Tharoor is the same person who called Indians 'cattle-class'. He is 'catlle-class-ing' the Indian democracy. You call yourself an educated and erudite spokesperson of the Congress. If you want to love Pakistan, do so, but do not display such hatred towards Indians," Patra said.
Referring to a slew of recent statements made by some prominent Congress leaders, Patra alleged that the party was "failing". He also reminded Rahul Gandhi that it was not "healthy politics". 
"Ghulam Nabi Azad said that the Indian Army is killings civilians, not terrorists. He did it because he just wanted to castigate the Narendra Modi government. Mani Shankar Aiyar went to Pakistan and said the Modi's government needed to be toppled. Saifuddin Soz said Kashmiris want 'azaadi'. The Congress party is failing. This is not healthy politics, Rahul Gandhi. If you want to say something or question us, do it democratically," he said.
However, unfazed by the controversy, a combative Tharoor took to Facebook on Thursday to defend his remarks, insisting that the BJP and RSS' idea of a Hindu Rashtra was the "mirror image" of Pakistan.
Defending himself, he said that he was repeating what is on record from the ruling party and its ideological mentor, the Rashtriya Swayamsewak Sangh (RSS).
"I don't see what exactly I need to apologise for the BJP's point of view ... If they are no longer interested in the idea of Hindu Rashtra they must admit. Until they do so, how can one apologise for reflecting their point accurately?" he said.
Watch: Congress distances itself from Shashi Tharoor's 'Hindu Pakistan' remark 
(With agency inputs)