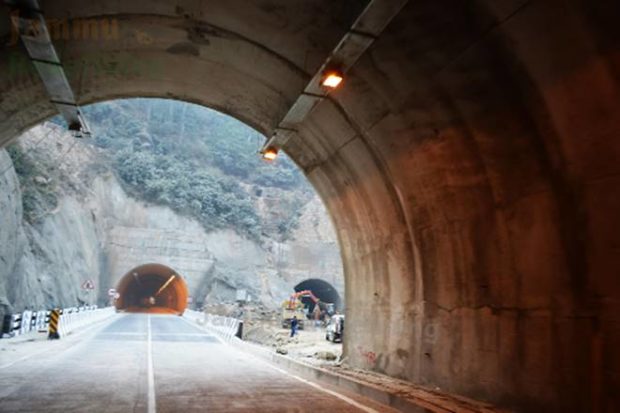 The government today approved the strategic Zojila pass tunnel project in Jammu and Kashmir to provide all-weather connectivity between Kashmir valley and Ladakh, which remains cut-off from the rest of the world during winters due to heavy snowfall.
Zojila pass is situated at an altitude of 11,578 feet on Srinagar-Kargil-Leh National Highway which remains closed during winters (December to April) due to heavy snowfall and avalanches cutting off Leh-Ladakh region from Kashmir.
"Cabinet approves Zozilla tunnel project, Jal Vikas Marg project," an official source said here after the meeting of the Union Cabinet, chaired by Prime Minister Narendra Modi.
IL&FS Transportation last year in July had said it has emerged as the lowest bidder for Rs 4,899 crore Zojila pass tunnel in Jammu and Kashmir.
In 2016, the road transport and highways ministry had ordered "rebidding" for the project awarded to IRB Infrastructure.
"We wish to inform that the company has emerged as the lowest bidder for the aforesaid (Zojila tunnel) project. The company had quoted an amount of Rs 4,899.42 crore to be constructed in a period of 2,555 days (7 years)," IL&FS Transportation has said.
Road Transport and Highways Minister Nitin Gadkari had earlier said, "We understand the plight of the people in Leh and Ladakh region who face severe crisis during winters when they are cut off from the rest of India for six months. We are committed to undertaking the project."
On March 1, 2016, the transport ministry had ordered "re-bidding" for the project, which had been awarded to IRB Infrastructure.
The decision was taken at a high-level meeting, chaired by Gadkari, after Congress leader Digvijay Singh alleged that guidelines were violated while awarding the contract.
The ministry, however, had denied the charges.