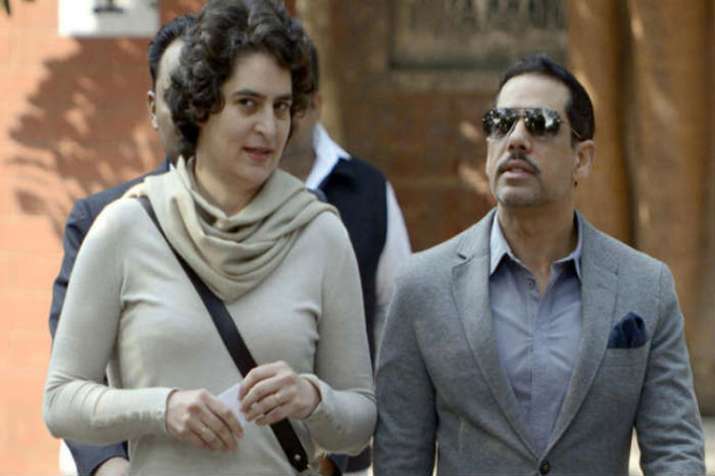 The Enforcement Directorate has summoned businessman and brother-in-law of Congress President Rahul Gandhi, Robert Vadra in the Bikaner land deal case, ANI reported on Friday. The case pertains to a land in Kolayat area of Rajasthan's Bikaner meant for those displaced due to Army's field firing range.
The ED had registered a criminal case under the PMLA in the matter in 2015. The Rajasthan government had cancelled the mutation of 374.44 hectares of land after the land department claimed to have found that the allotments were made in the names of "illegal private persons".
Earlier in the day, responding sharply to a newspaper report about the company that gave loans to his firm got relief from tax panel, Vadra said that it is part of BJP's 'Plan B' to drag his name to controversies to distract public attention from its administrative failures.
In his Facebook post, he wrote: "A flurry of media queries are suddenly being sent to me based on entirely false allegations probably being leaked by the government as polling day in Rajasthan comes close!! Interestingly, most of the issues arising thereof happen to be sub-judice. Is it a mere coincidence that this also coincides with certain government agencies accelerating their activities and raking up issues that either have no connection to me at all or I have already responded to years ago and cooperated with them fully over the last four years?"
👍🏼🙏 pic.twitter.com/Jp2zZDRQ1J

— Robert Vadra (@irobertvadra) November 30, 2018
The sad part is that everyone except the BJP can see how desperate, blatantly political and vindictive these tactics are. I hope independent and professional persons in the media stay focused on issues that really matter to the public in Rajasthan like massive unemployment and misgovernance and don't allow themselves to get dragged into what is clearly the government's plan B every time they find themselves on the back foot be it Rafale or the prospect of losing assembly elections," he added.
Vadra's response came after a newspaper report stated that the company that gave loan to Vadra to buy land at a premium got huge relief from Settlement Commission. The newspaper report claimed that the Enforcement Directorate (ED) asked Settlement Commission for details on Bhushan Power & Steel Limited (BPSL) which gave Rs 5.64 crore to Delhi-based Allegeny Finlease Pvt Ltd, which as per its records, used the money to buy land in Bikaner from Sky Light Hospitality which is owned by Vadra.
The report said that in 2011-12, BPSL gave a loan of Rs 5.64 crore to Allegeny. The report added that around the same time in December 2011, the Settlement Commission passed an order, admitting BPSL's application against the Income Tax Department which had issued a show-cause notice to BPSL asking the company to make income additions for assessment years 2004-05 to 2011-12 on various accounts aggregating to over Rs 800 crore.
Vadra is embroiled in another similar case in Gurugram in which FIR was filed against him, DLF and former Haryana chief minister Bhupinder Singh Hooda at Kherki Daula police station for a 2008 land deal. The case against the three, and one Onkareshwar Properties, was filed after a resident of Rathiwas village in Gurugram filed a complaint alleging losses to the exchequer because of the deal. Both Vadra and Hooda have denied the charges.