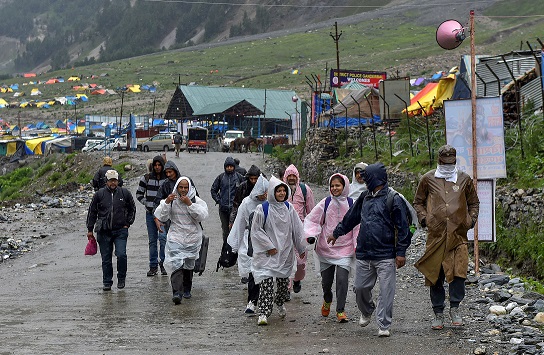 The fourth batch of 6,877 Amarnath Yatra pilgrims left from Jammu on Monday morning as the weather showed signs of improvment. The India Metreological Department has predicted that flood-affected Jammu and Kashmir is likely to receive only scattered rainfall over next three days. 
"The first group of 2,790 pilgrims bound for the Baltal base camp left at 3.10 am in an escorted convoy of 99 vehicles," police said.
"The remaining group of 4,087 yatris bound for the Pahalgam base camp left at 3.50 am in another escorted convoy of 130 vehicles."
The Amarnath Yatra was suspended on both Pahalgam and Baltal routes on Saturday as the incessant rains had turned the tracks slippery. 
A flood alert was issued in south and central Kashmir after many parts of the state were lashed by monsoon rains intermittently since June 27, leaving thousands of pilgrims who had reached the twin base camps of Baltal in Ganderbal district and Pahalgam in Anantnag district stranded
The rains also triggered landslides and shooting stones at several places along the Jammu-Srinagar national highway yesterday, but timely action by the authorities concerned ensured that the 260-km all-weather road connecting the Valley with the rest of the country, remained open. 
Despite incessant rains, the pilgrimage to the 3,880-metre-high cave shrine of Amarnath in south Kashmir Himalayas commenced as per schedule on June 28 after several hours of delay. However, the pilgrimage faced frequent disruptions owing to continuous rainfall.
The 60-day yatra is scheduled to conclude on August 26 coinciding with the 'Raksha Bandhan' festival. 
Meanwhile, Jammu and Kashmir Governor NN Vohra, who is also the chairman of Shri Amarnathji Shrine Board, directed its CEO Umang Narula to closely monitor the track conditions and their repair work before allowing the movement of pilgrims.
Watch video: