Follow us on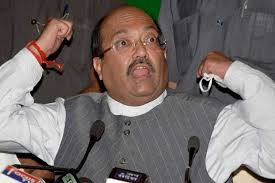 Expelled Samajwadi Party leader Amar Singh on Sunday attacked Azam Khan over his alleged threatening statement, and called Akhilesh Yadav President of 'Namajwadi party'.
Singh was reacting on the provocation in Azam Khan's statement in which he allegedly talked about cutting him into pieces and throw acid on his daughters. He also called Khan a 'raakshas' (demon).
"I saved dignity of many women and girls in the Yadav clan and now Azam Khan threatens to cut me into pieces and put acid on my daughters. I will expose them," Singh said in a Facebook video. 
The independent lawmaker also questioned SP president Akhilesh Yadav over constructing a grand Lord Vishnu temple in Etawah. 
"He should be ashamed of talking to build Vishnu temple. He is not President of Samajwadi Pary but Namajwadi Party," he said. 
Singh also threatened to 'unmask' Samajwadi Party's secular face in the country.