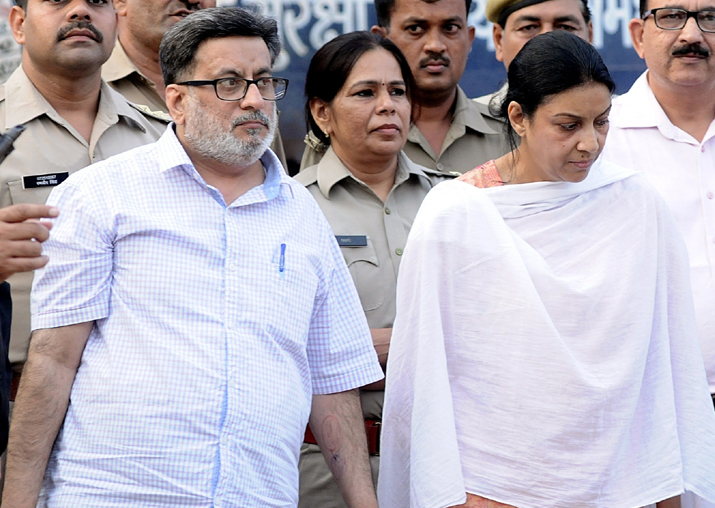 Breaking their silence since release from Dasna jail on October 16 after being acquitted by the Allahabad HC in 2008 murder case of their daughter and domestic help, dentist couple Rajesh and Nupur Talwar have said that 'the situation is a little scary for them to step back into society after a long confinement'
In a special 19 minutes long interview for an online streaming app Hotstar "Unsolved Aarushi Murder: The Talwars Break Their Silence", the duo said that public perception changed after they were back from prison.
"After being confined for so long, you suddenly come into freedom or you suddenly step out... we could see a lot of people outside, we could see that this had attracted a lot of attention. It is a little scary to face people, face the world, go back into the world, into society, it's difficult, it's something you have to slowly learn," Rajesh said.
"I am helpful to a friend of mine who helped both of us to face world in better way and gave us the confidence to step out. A big load had been lifted from our back and it was a big sense of relief and I was very grateful to god that our stand had been vindicated by the High Court," he added.
Nupur said that losing Aarushi was irreparable and inconsolable.
"It's a huge huge void... nothing can fill. There was a young girl (in jail) who I grew close to and used to sleep next to me. She cared for me and she spoke to me just like Aarushi. These four years we survived because of the fact that this young girl was there with me," she said.
Rajesh and Nupur walked out of Dasna jail in Ghaziabad on October 16 after being absolved of the charge of murdering their daughter and domestic help. The couple was acquitted by the Allahabad High Court on October 12. 
They were in jail for the last four years after a CBI Special Court held them guilty of murdering their daughter Aarushi and destroying the evidence. The Talwars, however, always maintained that they had nothing to do with the horrific killing of their daughter or domestic help Hemraj.