Follow us on New Delhi: A wedding ceremony is a wonderful occasion of absolutely love, feelings and most importantly a very special moment for you, your spouse and for all your friends and relatives to cherish.
It certainly is one among the most desirable milestone occasions of your lifetime.
When it comes to Indian Wedding, it is all about the customs, rituals and traditional ceremonies, which is followed by seven sacred vows or the Saath Phere.
Main Image courtesy: BusyBee Photography
A wedding in India means a continuous process of celebration for three to four days, which in most of the ritualistic matrix includes haldi, mehendi, sangeet, wedding, wedding reception, munh dikhaai, etc.
Whether you are planning to propose or even if you have already proposed, you have to plan your big day, why not take a look at some of the best wedding themes hitting the scene at the moment.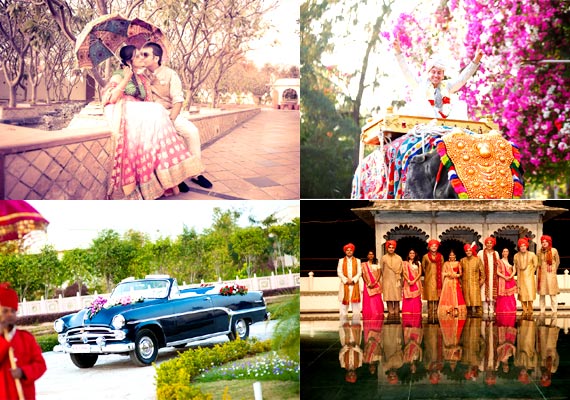 Image courtesy: weddingsutra.com,Sharik Verma,www.wedmegood.com
Royal/Rajwada Theme- Rajwada theme weddings are organized in a royal and sophisticated way, which is being decorated as the Raja and Maharaja Era style.
The combination of grand and royal colour, food, seating arrangement, Mandap, lighting, can make the wedding a perfect Rajwada styled event.
If you have any dream for getting wed in maharaja style then go for the Rajwada Theme Wedding. Choose the Colour and décor in pink, orange, golden and red colour. Illuminated chandeliers should be hung from the overhead.
Everybody loves a bit of glamour in their lives - and so this vintage glamour seems to be the most popular way of expressing ones sumptuous side.  Nothing other than a Royal wedding is best to make your day even unforgettable.

Set a grand scene and fill it with your hues of love!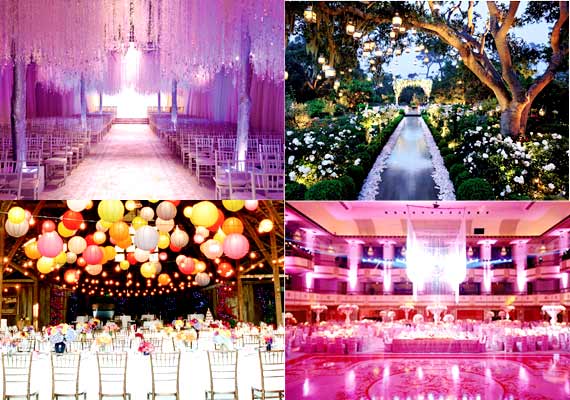 Image courtesy: www.bridalguide.com
Fairy tale Theme- Fairy tale theme is all about pure romance. The true beauty of love, affection and softness is reflected through this wedding. It is one of the most popular wedding themes as it has the perfect amalgamation of simplicity and pure romance.

From candlelit ceremonies to receptions lit by crystal chandeliers, this beautiful trend will melt your heart. The fairy tale theme will give you a feeling of a prince who is marrying his beloved princess.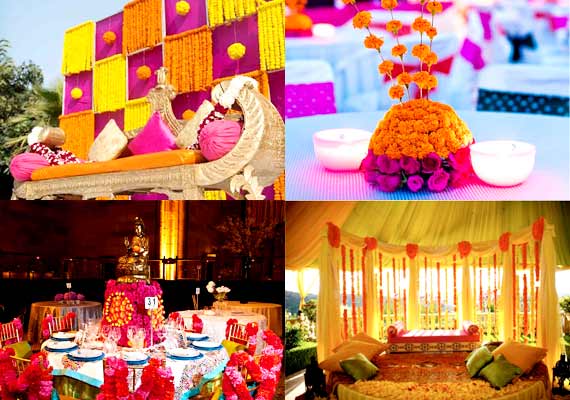 Image courtesy: mysticalmomentsindia.com, blog.matrimonydirectory.com, www.marrymeweddings.in, www.bridalguide.com, www.weddingsonline.in
Floral Theme- It is one of the interesting and refreshing theme as well as unique for weddings. Imagine when the total wedding set, stage and venue will be decorated in beautiful and colourful flowers.
Either you can choose a combination of flowers in different colour and variety or else same kind of flower in one single colour.
This theme is perfect for day time wedding as it is not too flashy and the fresh aroma of flowers will make everything pure and serene.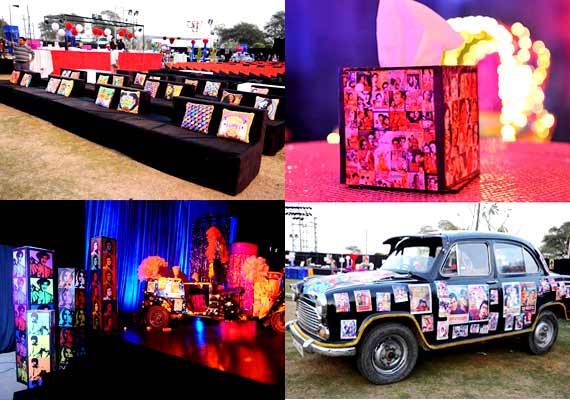 Image courtesy: weddingsutra.com
Bollywood Theme- This is one of the most trending theme for weddings. Be playful with your theme selection. If you want the glamorous venue theme for the wedding, choose a theme that will give a glam look such as illuminated chandeliers, decorative interiors, sophisticated chairs and other glamorous décor.
You can also adorn the event with attractive invitations, centerpieces, desserts and much more. Make your wedding grand as in Yash Chopra's movies.
From your mehendi to your wedding day, each and every day of your wedding should be like celebration with all Bollywood lataka-jhataka, Manish Malhota type's lehenga and many more.
To make your wedding even more special, you can organize a pre-wedding function where each and everyone present in the function should dress up like a Bollywood character.
The touch of filmi 'ishtyle' will add a notch of glamour to your wedding.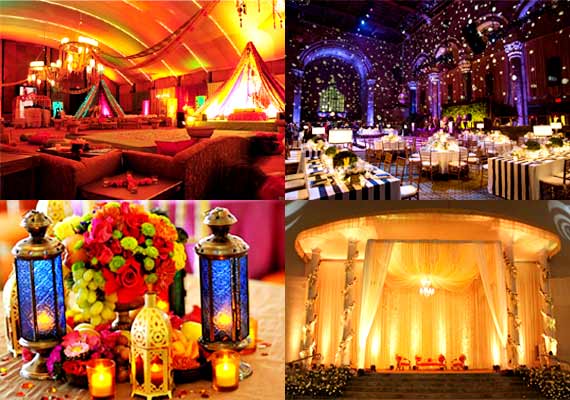 Image courtesy: www.yunaweddings.com, bridalguide.com,www-static.weddingbee.com, media-cache-cd0.pinimg.com
Light Theme- What else other than lights can make your wedding full of brightness and happiness. From marrying in moonlight to normal diyas, a light plays a very important role in making your wedding dazzling and shinning.
When your bride comes under a canopy of a soft light keeping every else thing is dark, we are sure you cannot take your eye away.
Nothing better than a perfect illuminated aura sets a romantic mood in a perfect way!
We hope after reading the article you must have got many innovative ideas which you can implement in your wedding and make it a moment to cherish for lifetime.
Then what are you waiting for, 'get-wed-go!'