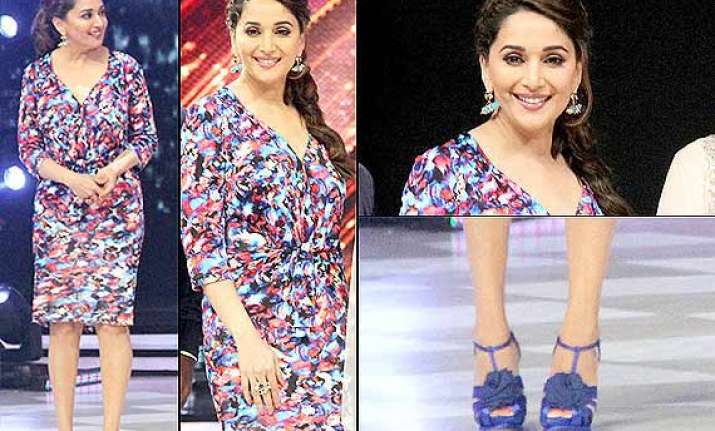 New Delhi: Giving another citing in blue was Madhuri Dixit on her dance reality show, Jhalak Dikhhla Jaa. Wearing a printed blue dress, the diva managed to spread her ecstatic charm on the show.
But, the overall aura of that 'Saloni' outfit was killed by her choice of footwear. Madhuri wore a pair of blue funky sandals that looked horrifying, making us doubt the styling sense of her stylist on the show, Anita Adjania.
Ankle up, she looked flawless with that messy ponytail justifying the mood of her dress. She accompanied the entire look with a pair of turquoise earrings and a statement ring.
Her Nicholas Kirkwood Sandals though had nothing to accentuate her beauty. Madhuri, who is going western with her styling on the current season of Jhalak Dikhhla Jaa seems a bit awkward with the showcase of her fashion on the show.
Neither of her looks has been able to strike a perfect notch of fashion and style amongst the critics.
The draped dress that she sported for the episode where gorgeous Kareena Kapoor Khan too graced the show, undoubtedly enhanced her curvaceous frame but wrong styling made the whole look, visually unpleasant.
We had that immediate urge to request her not to ruin any of her wonderful outfit by wrong mix-match of things!
Tell us what do you think, like it or not?