Follow us on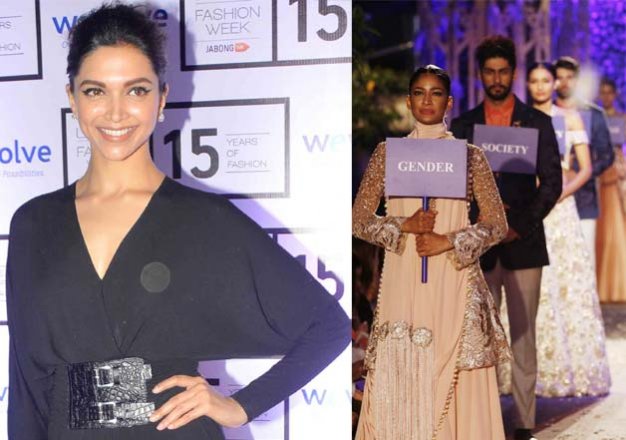 New Delhi: Manish Malhotra, a hot-favorite designer among Bollywood stars, introduced a new dimension to his summer collection at the Lakme Fashion Week with the Blue Runway.
The opening night of the show witnessed the launch of WEvolve, a global campaign and program aimed at empowering young men and women to challenge norms that lead to gender violence.
Lauding Manish Malhotra for his clothes, Deepika Padukone said, "He integrated the two things. It is very relevant to what is happening in India and globally."
"I think he has made a statement with that. IT feels nice when people who are in the position speak up and stand for a particular cause. It was done very beautifully as he had such a nice platform to do so, she added.
The show featured models walking the ramp amidst a set of floral décor with Moroccan lamps hanging from trees. Manish Malhotra remained successful in bringing host of bollywood for his show, where audience was left mesmerized by the sheer beauty of the show and the social message that it conveyed.
Actress Kajol, who is soon making a comeback in the industry with Shah Rukh Khan, was also present at the show. Media got an opportunity to catch her before the show.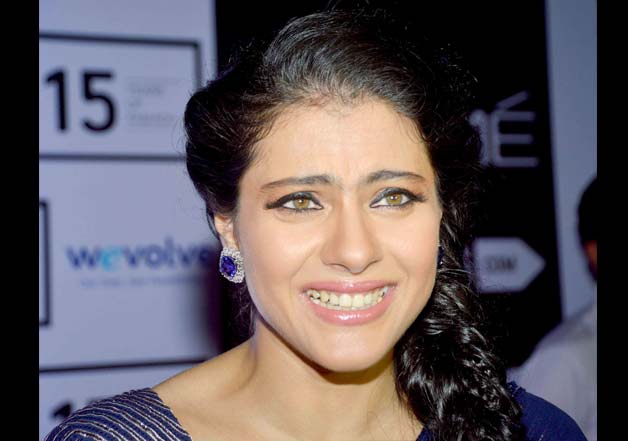 "I believe Manish will do an outstanding job as always. He is getting better with show".
"Whenever I see his clothes, I feel like giving him a standing ovation. And its pleasure to be here," fumed Kajol, who was looking beautiful in her blue saree.
At the show, Hollywood actress and fashion maven Rosario Dawson joined Manish Malhotra to present the 'Blue Runway'. Dawosn was styled in a midnight blue crop-top teamed with a voluminous rose-pink lehenga skirt from the designer's latest collection.
It is worth mentioning that 'Blue Runway has been the longest runway in the history of Indian fashion, and commemorated the enduring relationship between Malhotra and Lakme Fashion Week.
Bombshell Neha Dhupia, who looked dapper in pinned up hairdo, also charmed the event with her presence.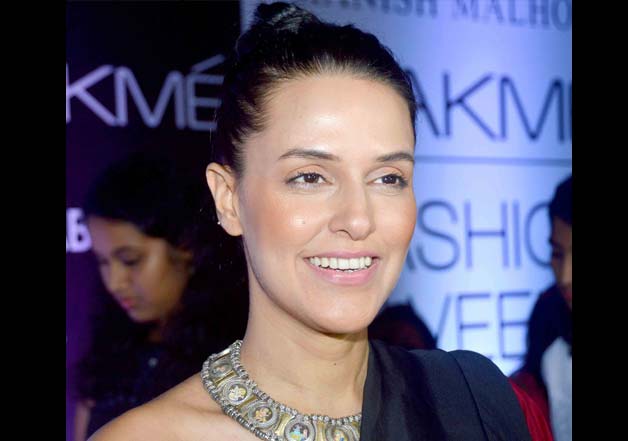 "Manish is my friend, I am here to support him. I always wear his clothes so I am just excited to see his collection," she said before heading towards the show.
The show was held outdoors under the stars in the leafy courtyards of the Great Eastern Home, an up market furniture store, which is housed in a former textile mill in south Mumbai.
Actress Huma Qureshi arrived at the event wearing a Manish Malhotra outfit and was amazed at the sight of the set. "I am very excited to see what' inside, as his shows are larger than life. His clothes are always feminine and elegant no matter what color it is of," she chirped.
Expressing her excitement for the show, Huma further said, "I was in Chandigarh in the morning, I just gotten off my flight to be here at the Manish Malhotra show".
Manish Malhotra's latest collection showcases mirror work and floral embroidery, adding a 3D and textural effect to the elegant pieces. The outfits were highlighted with jewelry by Anmol Jewellers.
The Chittiyan Kalayia" girl – Jacqueline Fernandez also graced the event and was in a very chirpy mood during interaction with the media. Talking about the show, she said, "I am here for Manish, he is supporting an amazing cause of gender equality.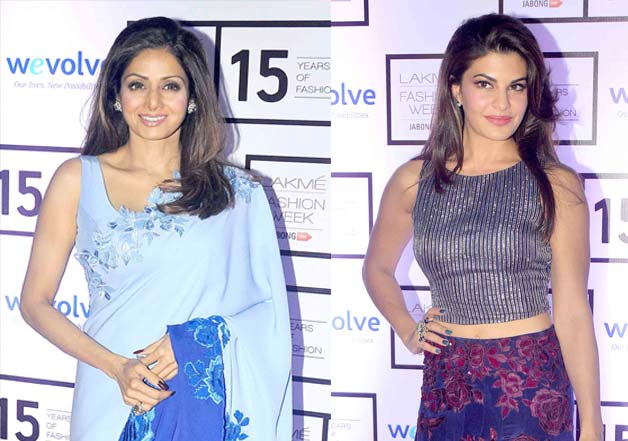 "It's great that people can come together from the world of fashion and entertainment because I believe that we can make a difference," said Jacqueline.
Manish Malhotra also got support from veteran actress Sridevi, who was looking stunning in a very beautiful sky blue saree.
"It is just not a fashion show but is for a noble cause that deserves much more attention that it gets.  So, I am truly happy to be here," she said with her beautiful smile.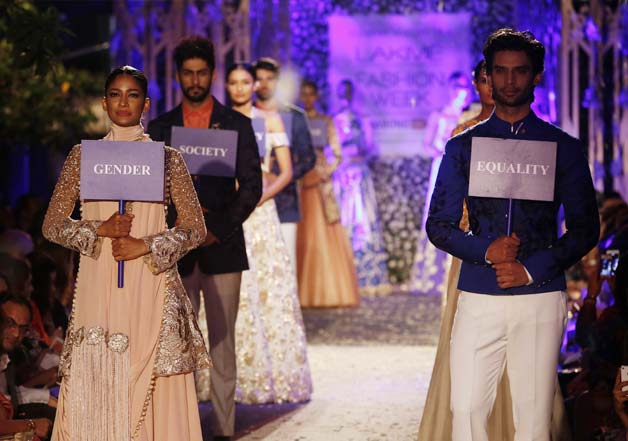 The event closing was the main highlight of the show where models returned to the catwalk holding signs displaying words such as "gender" and "equality" to highlight the campaign. It ended with a shower of rose petals coming down over the ramp.