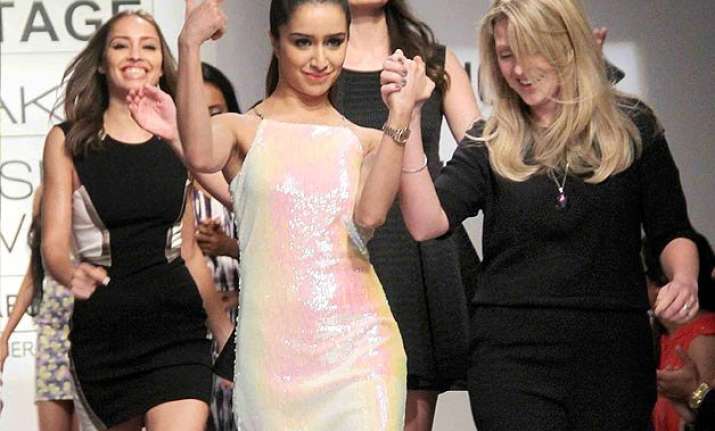 Mumbai: E-commerce company Jabong.com on Thursday launched the spring summer 2015 collection of Miss Bennett London on the second day of the Lakme Fashion Week's (LFW) summer-resort edition with Bollywood actress Shraddha Kapoor walking the runway for the brand in a sequin dress.
The brand is one of the few international names that made its presence at the five-day fashion gala that started at The Palladium Hotel here on Wednesday.
It offered a mix of ensembles like crop tops, mini dresses enhanced with floral, marble and graphic prints mixed with elements like track pants and sneakers for the forward young women looking for a distinct style statement.
The spring-summer line was based on palette of grey, charcoal, black, white, cobalt, royal blue, wine red, pink, neon and shades of blush.
The theme of the collection was unapologetically young, fashionable and ready-to-wear.
According to Natalie Jolliffe, brand director and designer of Miss Bennett London, the collection was a perfect fusion of elegance, comfort and style and is perfect for all the "coolest girl in the room who can pull off a chic yet playful outfit".
The collection will be exclusively available on Jabong.
Jolliffe said: "By taking fashion to the masses, Jabong.com is definitely making shopping an enjoyable experience. We are happy to launch Miss Bennett London through Jabong.com as it helps us reach out to our target audience better."
"We are happy to bring the catwalk trends from London to India," she added.