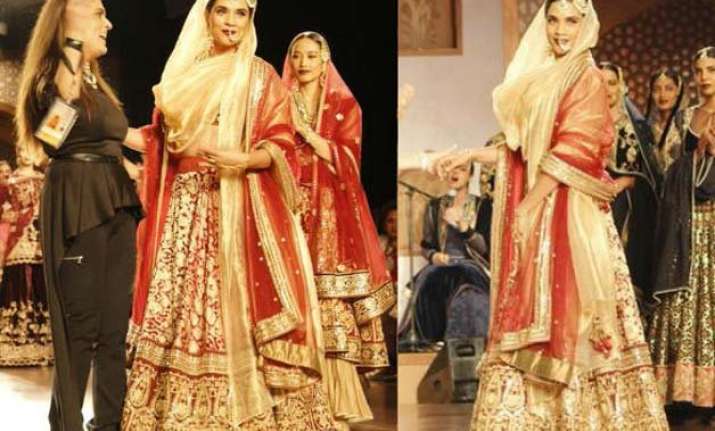 New Delhi: Designer Reynu Taandon used the runway of ongoing 2015 edition of Amazon India Couture Week (AICW) here as a time-machine.
She did this on Saturday to trace the origins of Mughal Empire through her Persia-influenced collection with actress Richa Chadha walking on the ramp as a Persian princess amid waves of Sufi music.
The Sufi Qawwali group Nizami Bandhu, who have also crooned for Salman Khan-starrer "Bajrangi Bhaijaan", along with a Thumri singer teleported the audience to another era with tunes of songs like "Chap tilak sab cheen li" and "Dama dam mast qalandar" on the fourth day of the five-day fashion extravaganza.
Titled 'Shahbanu', a series of period creations narrates a tale using sharaas, anarkalis, lehengas embossed with intricate gold embellishments.
In a maroon and gold heavily embroidered lehenga and choli along with the bling of jhumar, maang tikka, necklace and sheer veil adorning her head, Richa charmed everyone present at the event with her poise.
The "Masaan" actress, who was also bewitched by the surreal ambience of the event, feels the range has a quality of making anyone feel like a princess.
"It is very innovative to have live music in the back. The whole show had a very trance like feel. It transported me to a different era. I wish I could walk more like a model, but when I came out I was in some kind of trance. Any girl will feel like a princess after wearing the range," Richa told reporters post the show.
Taandon noted that desire to do something different swayed her away from Mughal Empire to Persia.
"The inspiration started from Mughal gharana, but I realised that I want to do something different. So, I read about from where did they came to India and tumbled upon Persia. So, I thought why not pick up a thing which is different and talks about origin of the empire," Taandon said.
The collection displays a heavy use of zardozi gold embroidery, royal blue and wine hues combined with floral motifs, thread work and mirror work inspired from Persian culture and architecture on fabric ranging from lightweight georgette to rich velvet.
The designer said that collection gets its edge with "sequin and mirror work" with focus on cuts and style like long garaaras and anarkalis from the past.
Richa heaped praise over Taandon's creation as she said that she is selective about who she walks the ramp for.
Talking about adding the Sufi touch to the show, Taandon said that the element was incorporated to stay true to the theme.
"When we are talking about past, then modern music won't do. So that was the reason we asked Nizamji to perform," the designer said.