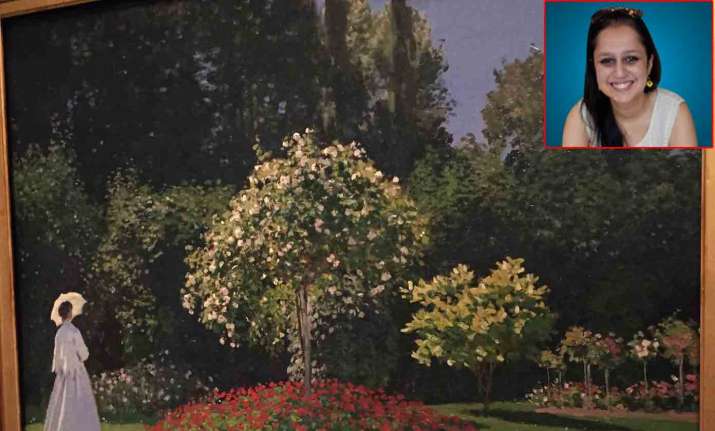 Floriculture is therapeutic, they say. But how therapeutic is painting gardens?
I happened to see Monet-Matisse, an art exhibition and boy, did the Royal Academy of Arts bring Spring to London in style.
Did you know?
Floriculture, or flower farming, is a discipline of horticulture concerned with the cultivation of flowering and ornamental plants. It's fascinating how the great artists like Monet, Renoir, Cezanne, Pissarro, Manet, Sargent, Kandinsky, Van Gogh, Matisse, Klimt and Klee used gardening and art featuring gardening,  as therapy for victims and survivors of World War II, bringing them not just peace, but a soothing, calming and serene effect on their hearts and minds as well.
From Claude Monet's "Spring flowers" to Kandinsky's "Murnau The Garden II,1910" the paintings ranged from vibrant and vividly colourful flowers in spring to modern and avant gardens.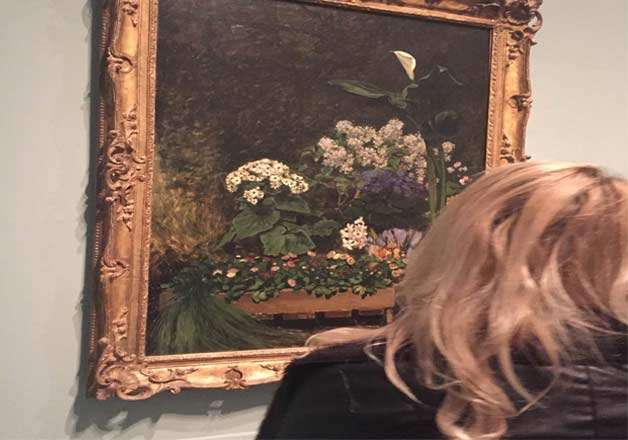 Monet cultivated gardens throughout his life, from his early days at Argentuil during the 1870's till his death at Giverny in 1926. The magnificent garden he created at Giverny, about 50 miles to the northwest of Paris, was his greatest horticulture creation and continues to attract thousands of visitors today. Monet found in these gardens an infinite source of creative inspiration for his painting.
The growing affluent middle class would use their leisure time  for gardening to derive aesthetic pleasure. Floral displays were put up at international fairs, while horticultural societies, plant nurseries and popular grading magazines became more popular.
Amongst the paintings on display was Renoir's magical painting of Monet painting in the countryside. There was also Monet's fabulous collection of paintings of Water Lilies. The art mainly featured Impressionist paintings from the 18th and 19th centuries.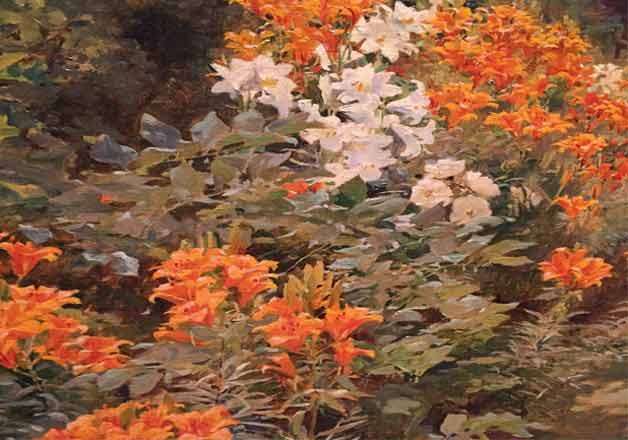 Impressionism is a 19th-century art movement that originated with a group of Paris-based artists whose work brought them to prominence during the 1870s and 1880s.
Impressionist painting characteristics include slightly small, thin, yet visible brush strokes, ordinary subject matter, use of light and inclusion of movement as a crucial element of human perception and experience, and unusual visual angles.
The Impressionists faced harsh opposition from the conventional art community in France. The name of the style derives from the title of a Claude Monet work, Impression, soleil levant (Impression, Sunrise).
The development of Impressionism in the visual arts was soon followed by abstract styles in other media that became known as impressionistic music and impressionist literature. It's a style that uses blending of colours as well as non-blending, that is smooth and non-smooth shading.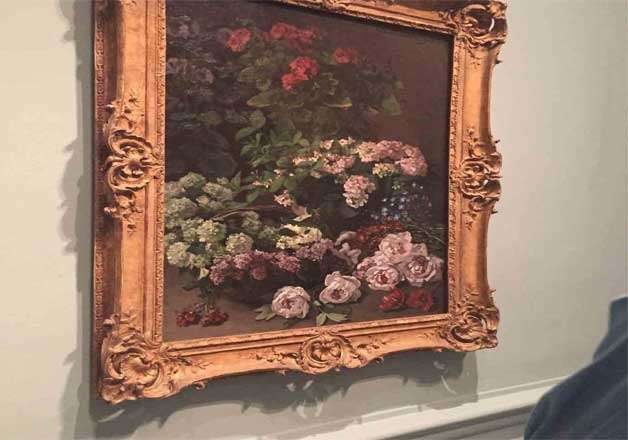 Though I'm not aware about art as most artists are, I found peace and uplifting serenity in the art that I got a chance to see and was blown away by the contrast in play of colour and use of paint.
There was great use of greens, browns and pinks and beautiful images of chrysanthemums, lilies, dahlias, poppies, daisies, sunflowers, lilacs and roses.
Sorolla's "Gardens of Silence" and Monet's "Lady In The Garden" were more towards the dull and bland shade of colours as compared to Monet's brighter more exuberant paintings.
Pissarro's paintings brought out the femininity of women in the gardens, plucking flowers or sowing seeds and watering plants. They depicted women in white with a sharp contrast to the dark greens in the backgrounds, perhaps showing women as the more important subject in the painting unlike the other artists where the flowers and gardens hold us captive.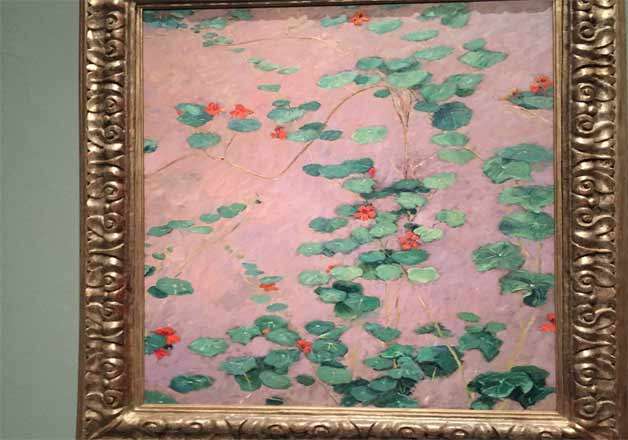 Leibermann's "Gathering Flowers In A French Garden" and "Flowering Bushes By The Garden Shed" also had women in them and brought out femininity in art.
Sargent's "Lady In A Garden" and P.S. Kroyer's roses, spark a bright white angelic, dove-whitish hue which brings an immense pacifying feeling upon viewing it.
By the end, we couldn't help but go on and on about the work at the small table we had at Cafe Concerto right across straight down from the academy.
The art was as much a reminder of the harsh anger filled in today's world with the fast paced lives that people lead and how it needs to be dealt with. There is a growing need for peace lovers and art therapy in today's chaotic, unruly and impatient city life. It is inspiring to find painters of that generation laying down examples for generation X to provide a rejuvenating effect in today's angry world.
Indeed, Camille Pissarro was truly passionate and driven about Garden Art when he wrote to Monet in a letter after recovery from the Franco-Prussian War:  'I love compost like one loves a woman'.
(Astha Sharma is a student presently pursuing music and art in London)