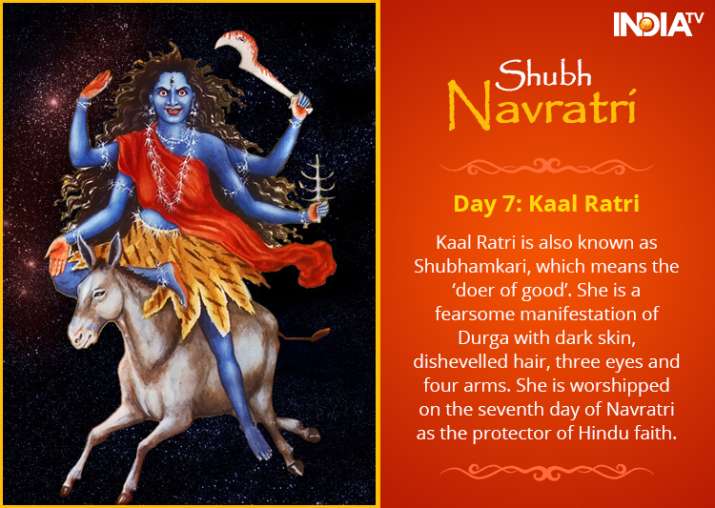 On the seventh day of Navratri 2017, Kaal Ratri avatar of Goddess Durga is worshipped by devotees. Every time when the powers of evil resurrected on the Earth, for destruction of demon, Kaal Ratri has incarnated as a divine power to salvage her devotees from the evil. The seventh avatar of Goddess Durga manifested on the seventh day of Navratri. She took birth for the betterment of the sages and innocents. When demons like Mahishasura, Shumbha, Nishumbha, etc after obtaining boons from the Gods, started considering themselves above the almighty, the Dharma starts diminishing on the Earth. Human beings begin to forget their morals and humanity, and demonic energies start taking over them. Noble qualities like yajnas, charity, social service, dharma, kindness, benevolence, etc start disappearing. During such darkness, Kaal Ratri steps on the Earth to save humanity from the claws of demons. She is known as Kaal Ratri by her devotees because she can bring an end even to death. The word Kaal means time and also death. Even though her appearance is fearsome, she has a divine light and is an eternal source of wisdom. 
Kaal Ratri/ Navratri Mahasaptami 2017 Puja Vidhi, Mantra
There is a custom perfoming puja and vrata on the seventh day of Navratri. The devotees who are observing fast should complete their chores in the morning and sit for puja with pure mind and body. Gather all the material required for Puja like perfumed water, Ganga Jal, dry fruits, panchamrita, flowers, laml, incense sticks, rice, etc. Do the puja according to the procedure. Recite the Goddess Kaal Ratri mantra. Every mantra has its own significance and purpose. We are providing some important mantras which are required for Mahasaptami Puja.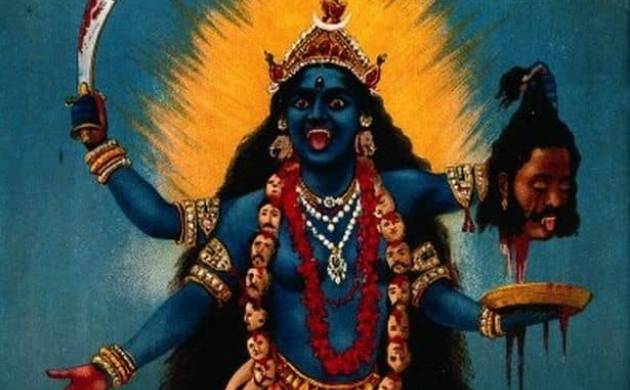 दंष्ट्राकरालवदने   शिरोमालाविभूषणे।  चामुण्डे मुण्डमथने  नारायणि नमोऽस्तु ते।।
या देवी सर्वभूतेषु दयारूपेण संस्थिता।  नमस्तस्यै नमस्तस्यै नमस्तस्यै नमो नमः।।  
Danstra-karala-vadane siromala-vibhusane | 
Chamunde munda-mathane narayani namo stute ||
Ya devi sarvabhuteshu daya – rupena samsthita |
Namas tasyai, namas tasyai, namas tasyai namo namah ||
Om Bhurbhuva svah kalaraatri iha gaccha ihatisha
kalaratryai namah kalaratrimavahayami sthapayami
namah padhyadibhih pujanaambidhaaya